10 Watch Brands You Should Add to Your Collection in 2023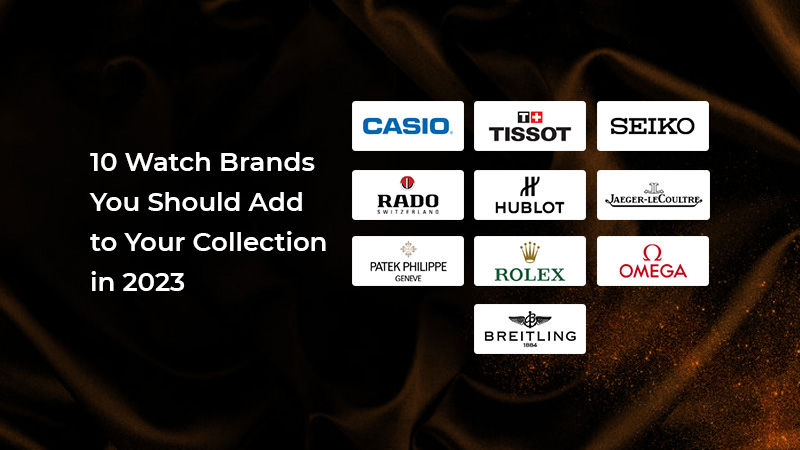 Watch aficionados are those who truly enjoy an object that is a combination of art and engineering. Watches have been a part of our history. First, they were a luxury, and later a household object. Over the years role of a watch has changed. But what remains unchanged is how much it is truly a part of our world. It penetrated the world of fashion and technology, evolved with time and despite not being a necessity, it is still very well desired.   
A watch collector is someone who truly knows the worth of a watch. They admire the technology, appreciate the craftsmanship, and value a design that is appealing to the senses. They know what a good watch is, and they seek the watches they wish to have. A watch is not just a time-telling device, but also a symbol of growth and progress, a milestone marker that tells you more about where you stand in your life, not just time.   
All this makes a great watch collection a watch lover's pride. This year as we await the launch of new models and collections, let us take you through some of the best watches from some of the best watch brands that must have a place in your collection.   
Rolex needs no introduction or fancy word-building. It is one of the most coveted time-telling devices of the century. Known for its incredible mechanism, craftsmanship, and style, Rolex has set a benchmark in the world of watchmaking. Rolex has an incredible collection that speaks of its diversity in style and technology. It is easily one of the top-selling watch brands in the world.   
If you don't own a Rolex, you are missing out on the crowning glory in your watch collection.  
Here is a Rolex watch you must add to your collection;
DATEJUST 41 OYSTER, 41 MM, OYSTERSTEEL AND WHITE GOLD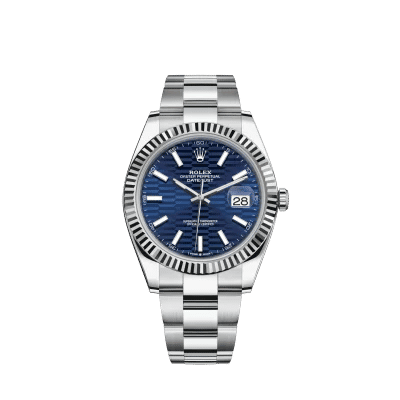 Datejust 41 in Oystersteel and white gold comprises of a bright blue dial and an oyster bracelet.

 

This model is elegance personified. It is one of the most recognized Rolex watches.

 

Bright blue dial is a distinctive feature, its most prominent and visible feature. Every Rolex dial is meticulously crafted with gold hour marks that resist corrosion.

 

This model is fitted with a new generation movement, calibre 3235. Oyster bracelets are durable and comfortable to wear.

 
If you already have Rolex watches in your collection, here is how you can keep them safe and make them last for a long time.
Omega watches are prized for their exclusivity, workmanship, durability, design, and above all their brand history. There is a certain pride associated with a watch brand that made its way to the moon, has been James Bond's trusted companion for decades, has been a part of historic Olympics, and much more. All of Omega's products meet extremely high-quality standards, achieving records and numbers that other brands find hard to compete with.  
Here is an Omega watch you should consider adding to your collection;
AQUA TERRA 150M CO‑AXIAL MASTER CHRONOMETER 38 MM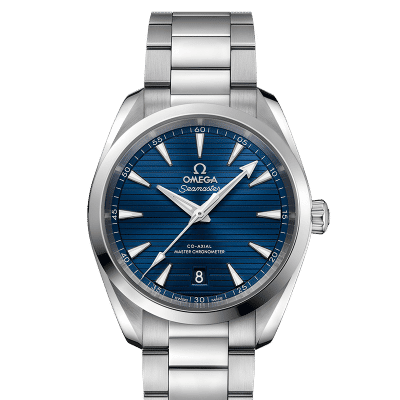 OMEGA's rich maritime heritage is beautifully reflected in the Seamaster Aqua Terra.

 

 The 38mm model has a stainless-steel case with a wave-edged back design. Sun-brushed blue dial with a horizontal "teak" pattern is inspired by luxury sailboat decks. 

 

This chronometer has an OMEGA Master Chronometer caliber 8800.

 

 It has been certified at the highest level by the Swiss Federal Institute of Metrology (METAS). The steel bracelet with butterfly clasp.

 
Any good luxury watch collection is incomplete without Omega watches. If you already own Omega watches, here is everything you need to know about the service and maintenance of Omega watches.
A watch collection would be incomplete with a Patek Phillipe added to it. Patek Philippe's understated grace exudes poise. They are some of the most luxurious watches one can own. These watches are defined by excellence in craftsmanship, heritage, and design. These handmade luxury watches are crafted by skilled, specialists with impressive skills. They are a complete amalgamation of arts and technology  
They are made from the finest materials and have the highest standards of excellence. They have patented numerous innovations in the horology field. 
A great addition to your collection would this the below mentioned watch;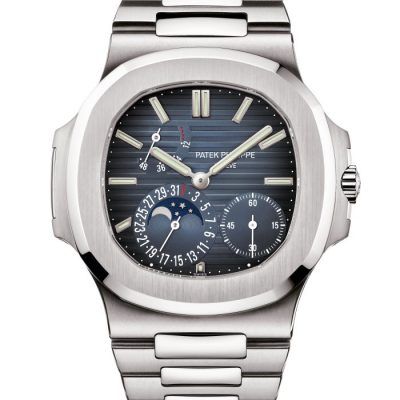 The Nautilus watches feature an octagonal bezel, a porthole case construction, and a horizontally embossed dial.

 

5712/1A – NAUTILUS is a self-winding watch in steel, rose gold, white gold, or two-tone variations.

 

They are suitable for an active lifestyle while being elegant and classy. Its has a self-winding mechanical movement.

 

The dial is black and blue, and its strap is made of stainless steel and is water resistant.

 
They are worth having and holding on to. If you already own a Patek Phillipe watches, here is some information you can find useful in keeping these watches in mint condition.
Jaeger Lecoultre has a history that can be traced back to 1833. In addition to their flair for innovation, and sophisticated and opulent designs, these watches are also renowned for their accuracy. Inventions and patents under the Jaeger-LeCoultre brand's belt are a testament to their constant evolution over time.  
Jaeger Lecoultre watches are timeless classic and a great watch brand to add to your collection.  
Here is one such watch to add to your collection;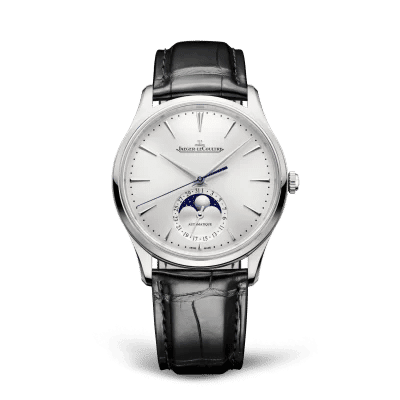 Several timepieces transcend fashion and time with an equally high degree of elegance.

 

Since its introduction in 1993, Master Ultra-Thin has captivated and impressed people with its elegant yet incredibly intricate mechanism.

 

The Master Ultra-Thin Moon, one of Jaeger Lecoultre's flagship Maison models, has been updated numerous times. 

This version has a stainless-steel case, is water resistant and the dial is Silvered grey, Sunray-brushed with Rhodium-plated hour-markers. 

It has automatic winding movement and it has leather straps.
Their collection of watches includes some of the most ingenious designs. If you already are a proud owner of a Jaeger Lecoultre, here is how you can take good care of your watches. 
Rado is well-loved for its durability, choice of materials, style, and overall performance. This luxury watch has been around for a long time and has a long list of loyal fans who love its qualities. Rado has a penchant for innovation, not just in technology but also in the materials they use to create their stunning watches.   
The combination of exceptional movements, outstanding artisanship, and distinctive materials make them a highly sought-after luxury watch. A Rado in your collection and on your wrist is a statement worth making.  
Here is a Rado watch that adds beauty to your collection;  
THE CAPTAIN COOK AUTOMATIC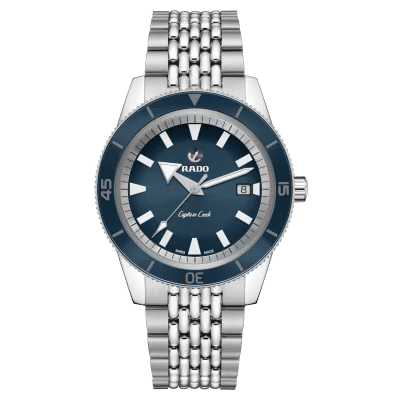 This original look from 1962 has been updated for the 21st century.

 

Featuring vintage details and styling that are true to the original, it also has modern features that make it a suitable match for the modern wearer.

 

The case of this watch is made of stainless steel, and it has automatic movement.

The dial is blue, and the strap is made of stainless steel just like the case.

 
If you are a proud owner of Rado watches, here are some great ways to look after your Rado watches.
Breitling watches are yet another gem and a beautiful example of Swiss mastery in watchmaking. Watches made by Breitling are beautiful and are renowned for their accuracy. Swiss Official Chronometer Testing Institute (COSC) tests Breitling's watch movements to ensure high accuracy. Hey are a perfect balance between the ingenuity of science and the grandeur of art.  
This makes it one of the most coveted watches. Besides their beautiful designs and accuracy, these watches are popular for their variety. There is a Breitling watches for everyone and every occasion. If you don't own a Breitling watch, its time to own one.  
Here a Breitling watch that is perfect for a watch lover;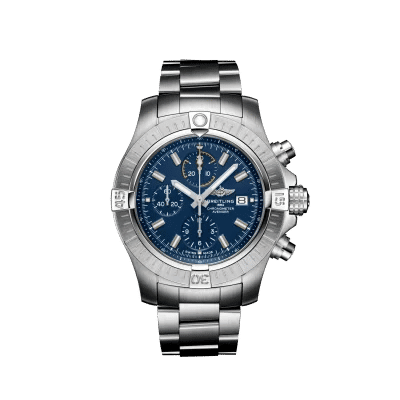 The Avenger Chronograph 45 is a durable, reliable, and shock-proof watch designed with precision and power.

 

It has a stainless-steel case with a 45mm diameter, a black or blue dial, and a steel bracelet with either a stainless-steel pin buckle or a folding clasp.

 

The Avenger Chronograph 45 can be easily operated while wearing gloves thanks to its rugged bezel and special grip pattern on the crown and chronograph pushers.

 

It is water resistant and the movement is self-winding mechanical. 
If you already own a Breitling, check out our handy Breitling watch servicing and repair tips. 
The world of luxury watches is populated by Swiss-made timepieces; however Japanese watch brand Seiko manages to stand out. Seiko is not strictly a luxury brand but it has a spot in the watch lovers' collection. Seiko has sold millions of watches worldwide since it was founded in 1881. The company introduced the world's first quartz wristwatches and the first quartz watches with a chronograph complication.  
Seiko watches have an impressive track record in terms of durability, value, and their designs are beautifully timeless. All of this makes it a great addition to an enviable collection of watches.  
Here is one you can add to your watch collection;
SBGA211G - ICONIC HIGH INTENSITY TITANIUM SNOWFLAKE SPRING DRIVE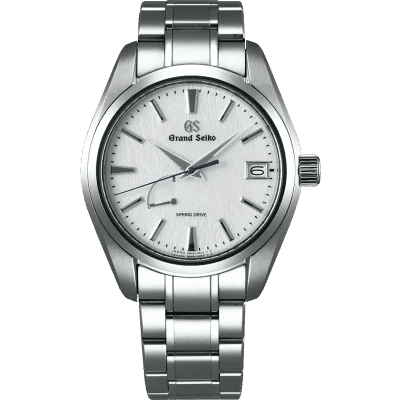 Grand Seiko's SBGA211 is powered by Spring Drive, a unique caliber that combines a mainspring's power and a quartz watch's precision.

 

Titanium is used for both the case and the bracelet, providing a scratch- and corrosion-resistant finish, making it 30% lighter than stainless steel.

 

Shiojiri dial studio created the fine textured snow effect on this dial. It is not painted white, but is coated with silver to create the delicate texture of snow.

 

It is water resistant and is equipped with magnetic resistance.

 
Here is how you can keep a Seiko as good as new once you acquire it.
Hublot watches are relatively young amongst luxury, high-end watches. However, they have made an impact amongst watch lovers and carved out a spot for themselves among the famed Swiss watches. Hublot is one of the most durable watches created with the finest materials. They are stylish and sophisticated.  
They are also prized for their precision and accuracy. This along with their varied features make makes them reliable and a good investment. 
A Hublot watch that would be great to add to your collection;
BIG BANG ORIGINAL GOLD CERAMIC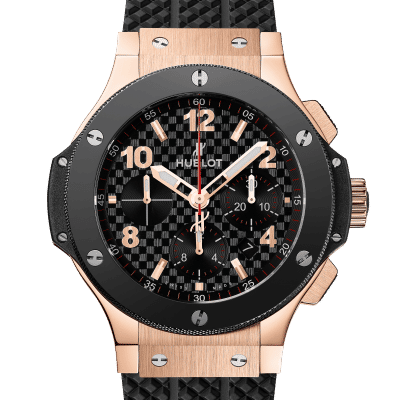 The Hublot watch is the very definition of bold, strong, unique, and technically advanced.

 

Hublot has always prized innovation in both the technology and aesthetics of its watches.

 

This watch is made of POLISHED AND SATIN-FINISHED 18K 5N GOLD. The straps unlike many other luxury watches are made of rubber and are black in color.

 

These watches are water resistant. Its is powered by Hublot's HUB4100 Self-winding Chronograph Movement.

 
If you don't own a Hublot watch, it's time to get one. If you already have a Hublot watch, here is everything you need to know about its care and maintenance. 
Tissot is yet another Swiss watch that would make a great addition to a watch collection. Tissot has a long history that can be traced back to 1853. Tissot is widely renowned for its accuracy in telling time. Many international sporting events rely on them as the official timekeepers. Tissot's motto "Innovators by Tradition" adequately describes their penchant for ingenuity.   
They are also quite durable and come in various sophisticated designs. If you love watches that add to your personality, Tissot is a watch you must have.  
A Tissot that can be a great addition to your collection;
TISSOT BALLADE POWERMATIC 80 COSC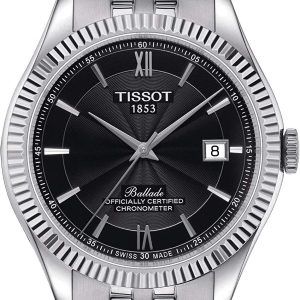 Tissot ballade powermatic 80 COSC is powered by Swiss automatic movement, it is fueled by

 

the wrist movement of its wearer.

It features 80 hours of power reserve, enough to keep accurate time even if it is not worn for three days.

 

This is a COSC-certified watch. The COSC (Official Swiss Chronometer Testing Institute) conducts a battery of extremely stringent tests on the movements to ensure their accuracy, anti-magnetism, and impact resistance.

 

This watch has water resistance and a see-through case back. The case material is 316L stainless steel case and has a leather strap.

 
In case you are a Tissot enthusiast or wish to own a Tissot at some point in the future, we have information that may be of interest to you.
Casio is a relatively new watch brand and yet another Japanese contender in the world of watches. Casio is a name revered in the world of electronics. They have cemented a niche spot for themselves among famous timepieces in just a few years. Casio watches hold a place of pride among the most durable watches.   
These watches have technology at the core which makes them futuristic. Casio products combine creativity and science. As Casio has expanded its product line, it has introduced a multitude of watches that have showcased what the brand can do and why it is worth owning.  
Here is one you should add to your collection;
CASIO GA-2100 SERIES - GA-2100-1A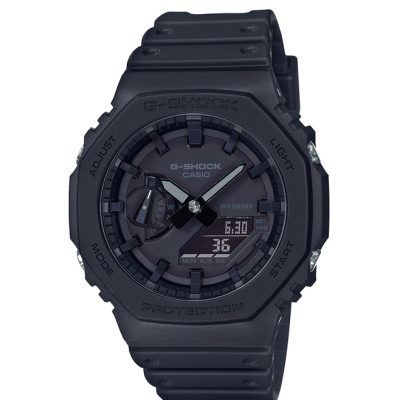 Casio has produced some of the toughest yet affordable watches.

 

Its GA-2100-1A is one such watch. Its shock resistant, water resistant and has a casual design.

Its sleek and convenient to wear. Its both light weight and strong. The case and bezel is made of Carbon and Resin.

 

 It has a Carbon Core Guard structure. It has various features and its accuracy makes it a good watch to own.

 
Here is everything you need to know about owning and keeping a Casio watch.
An exceptional collection of watches is something to be proud of. However, these watches need the care to function well and stay as beautiful as the day you brought them.   
This is made easier with My Watch Merchant. At My Watch Merchant, watches are handled only by professionals who are skilled and well-trained. We use the best equipment to ensure that watches entrusted to us are carefully serviced and repaired.   
If you have a watch that's worth showing off, you need to leave its service and repair to a professional.
Let My Watch Merchant Handle All Your Watch Care Concerns.