Cartier Watches – The Movement, Mechanism, and Maintenance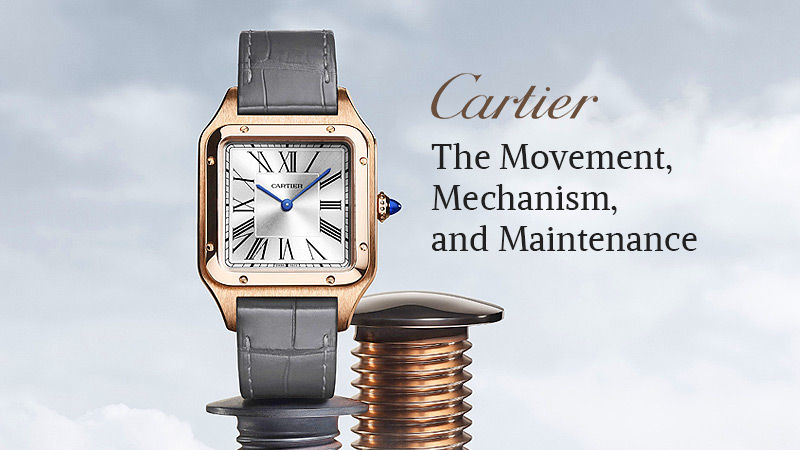 The French and fashion have a beautiful connection. Horology fits right into this with their love for scintillating accessories. This is why Cartier's birth, history, and rise to success as a luxury goods brand creating high-end watches and jewellery is not surprising.   
Cartier was founded by Louis-François Cartier in Paris in 1847 when he took over his master, Adolphe Picard's workshop. Cartier's son Alfred later took over the business, while his sons Louis, Pierre, and Jacques expanded it internationally.  
Cartier has its headquarters in France   although it is a wholly-owned subsidiary of the Swiss Richemont Group. When people think about Cartier, the first thing they think of is the jewellery. However, this iconic brand has its roots firmly planted in the world of watchmaking.  
Cartier has beautiful designs, uses the most exquisite materials, and imbibes innovations and technological advances. If you are a watch lover or simply a fan of Cartier, we have some interesting information you would like on types of Cartier watches and how to keep them working perfectly for a long.   
Making of Cartier Watches
Every Cartier watch is a labour of love and ingenuity. Watchmaking specialists, designers, and engineers work together to create something stunning and worth keeping. The quality of all raw materials and parts is checked fastidiously. Throughout the production process, Cartier adheres to a strict sourcing policy. Cartier watches are built using technology that guarantees both precision and efficiency.  
Each watch undergoes a meticulous individual check that evaluates chronometry, water resistance, and many other functions.   
1904 MC is the first mechanical self-winding movement designed and developed by Cartier watchmakers. The watch is named after the year Cartier created its first wristwatch. To guarantee better chronometric stability for the movement's entire power reserve, this caliber was designed with two barrels, i.e., two reservoirs. The watch is also able to handle complications like the Moon Phase, Chronometer, and 6 o'clock second counter. To protect the movement, a shield made of a paramagnetic alloy has been embedded into the case.  
1847 MC is named after the year the Maison was created. The movement measures only 3.8 mm thick, making it suitable for thin watches. To meet the high standards of Swiss watchmaking, each movement is painstakingly calibrated by a watchmaker. To remain functional under strong magnetic fields in everyday life, the escape mechanism has been created with non-magnetic components. The movement is protected from damage by a shield of paramagnetic alloy.  
Cartier created this mechanical movement with manual winding and named it to honor the Tank's creation date. This tiny movement, less than 3 mm thick and featuring Côtes de Genève, is featured in fine and elegant watches. To protect the movement, the case includes a shield made of a paramagnetic alloy.  
High-efficiency Quartz Movement
In 2018 Cartier launched a Quartz movement that is twice more powerful as traditional movements. The movement was revised and adjusted by Cartier to minimize its energy consumption while incorporating a power-efficient battery.  
It features a water-resistant battery, long life, halved self-discharge, and a higher capacity of 5%.  
Skeletonized parts have been a part of Cartier for a long time. They have been a Maison signature since 2009. There has been a patent application filed for this innovative movement.  
Both the design and the craftsmanship of the skeleton movement are impressive. Calibration parts are supported by Roman numerals that form the base and bridges.  
The legendary Mysterious Movement came into existence in 1912 after a meeting between Louis Cartier and watchmaker Maurice Coüet. The first Mysterious clock was named Modèle A. It drew inspiration from the clocks of avant-garde illusionist Jean-Eugène Robert-Houdin.  
This design reinvents Cartier's first iconic mysterious clock by making it smaller to fit the scale of a watch.   
There is no direct connection between the hands and the movements, which makes these complications appear to hang in midair. Attached to the discs are sapphire discs with teeth around the edges. Activated by the movement, these discs turn the hour and minute hands.  
Mysterious Double Tourbillon
The Mysterious Double Tourbillon was patented in 2013. Flying tourbillon executes a full rotation within 60 seconds and the sapphire disk rotates every five minutes – with no visible gear train. This creates a double illusion.   
A levitating effect is evident throughout the entire structure. Racks placed at the edge of sapphire disks transform them into gear wheels. To limit energy consumption, a 5-minute rotation was chosen as energy consumption would have been 25 times higher for a one-minute rotation.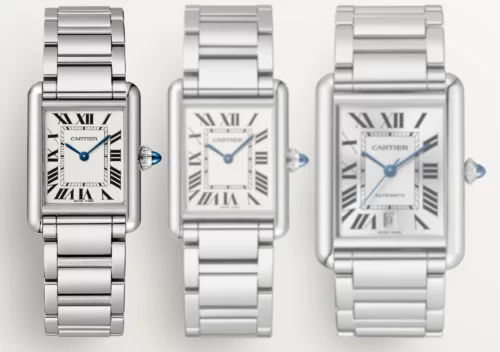 Louis Cartier designed the Tank watch after tanks from WWI battlefields. It is distinguished by flat vertical lines and a sapphire cabochon, which have set this piece apart as a symbol of sophisticated elegance. Since its inception, it has had many fans worldwide and continues to be one of the most popular Cartier designs.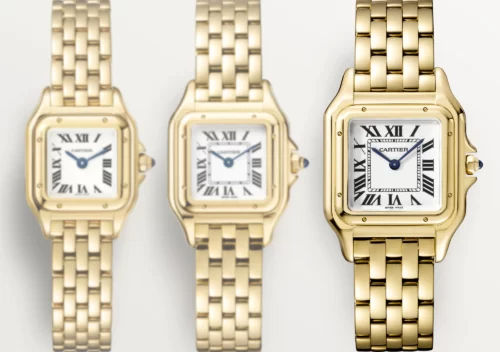 Cartier is well known for its exquisite jewellery. The Panthère de Cartier skirts the line between watches and jewellery due to its design. Encrusted with gold, diamonds, and precious gemstones, this watch was made to be noticed. It's attractive, stylish, and has feline grace about it.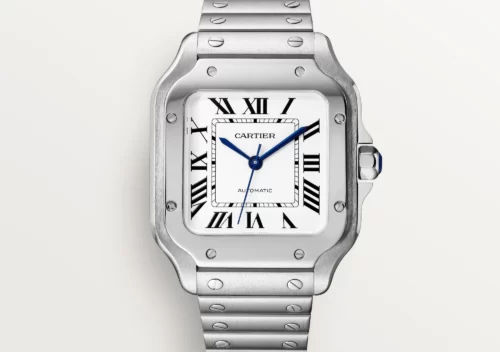 Louis Cartier designed the Santos watch in 1904 to help aviators tell time while in flight. This revolutionary wristwatch has become an icon over the years. There are geometric dials, curved horns, and exposed screws that are distinguishing and defining features of this watch.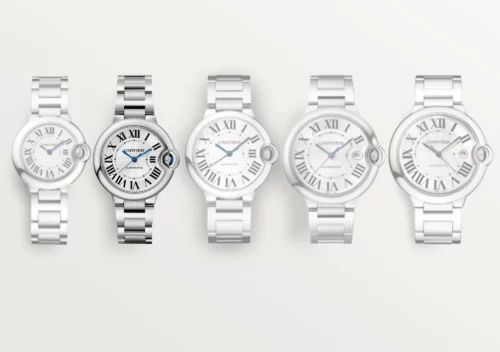 A Ballon Bleu case has a domed front and back. The case is instantly recognizable thanks to the emblematic crown cap. Cartier introduces a twist to its design by transforming the traditional rail track design on the dial. The addition of a blue bubble adds to the optical illusion. Ballon Bleu is a timeless and harmonious design that blends with both its wearers and the occasion.  
Panthère Jewellery Watches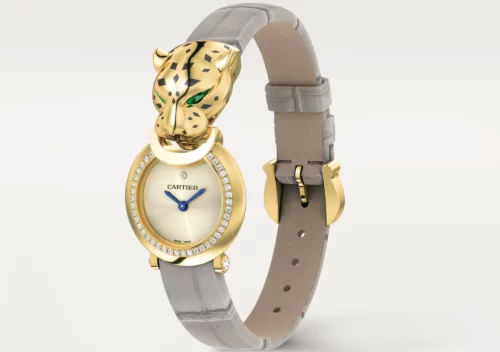 Panthère Jewellery Watches double up as jewellery and timepieces. These luxury watches are dripping in decadence and style. Apart from the precious stones that adorn these watches, what sets them apart is the iconic panther motif in the watch design. It symbolizes wild charisma, magnetism, grace, and beauty. These watches will grab attention no matter where they go.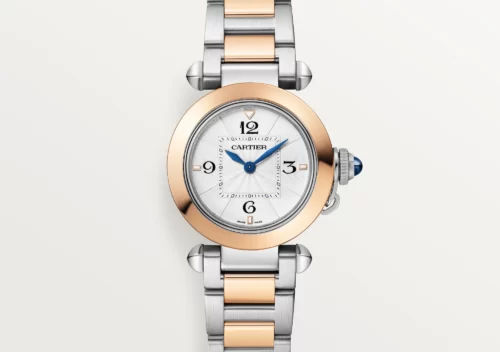 The new Pasha de Cartier is true to its first version from 1985, but it has been enriched by originality and has become one of its most recognizable watches. These elements extend beyond traditional watchmaking elements. They add charm and style to the overall look of the wearer.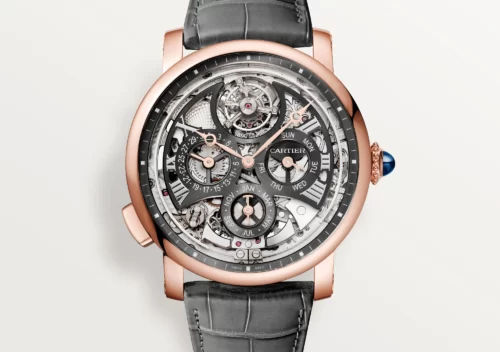 With its eminently stylish dimensions and graceful proportions, the Rotonde de Cartier is a timepiece that is ideal for showing off the most sophisticated movements and complications. It is quite distinctive and stands out from most Cartier collections.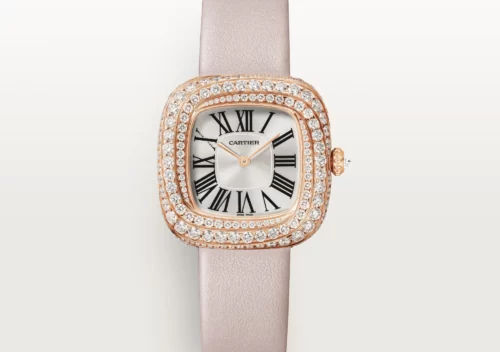 The Coussin de Cartier watch has a gorgeous design, a square surrounded by spirals of diamonds. The diamonds that adorn it complement its classic shape. This is a perfect watch for making a stylish statement at a party or event.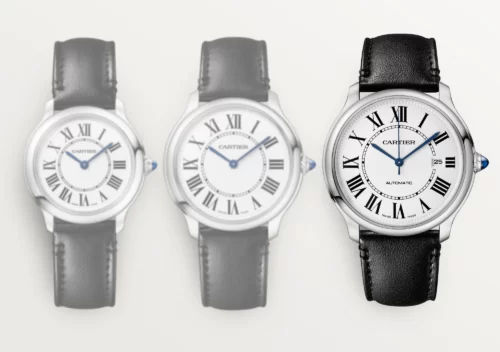 With its origins in the days of Louis Cartier, the Ronde de Cartier features Roman numerals, sword-shaped hands, and a sapphire cabochon at its center. All of these are very the hallmarks of a traditional Cartier watch. The winding mechanism and rail-track minute circle are yet another classic Cartier symbol that makes it a true classic.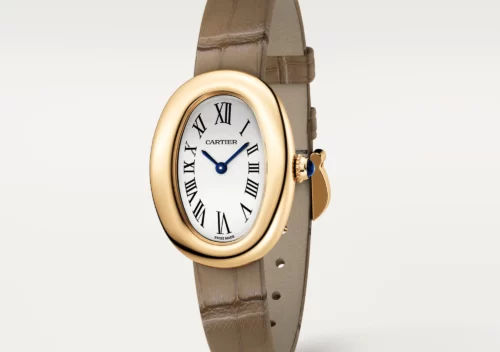 This watch demonstrates Cartier's inherent capability in watchmaking, dating back to 1906. As one of Cartier's signature designs, it is characterized by an elegantly shaped ellipse, which is carved in a single line. In essence, it is a blend of pure beauty, grace, and opulence that captures the essence of Cartier chic in its purest form.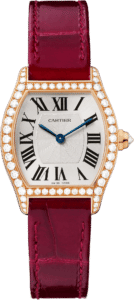 The Tortue, designed by Louis Cartier in 1912, is the original tortoise-inspired watch. In an era when most watches were round, this watch's slightly curved form and truly unique design helped create some of the most classic Cartier watches in the watchmaking industry.  
How to care for Cartier watches?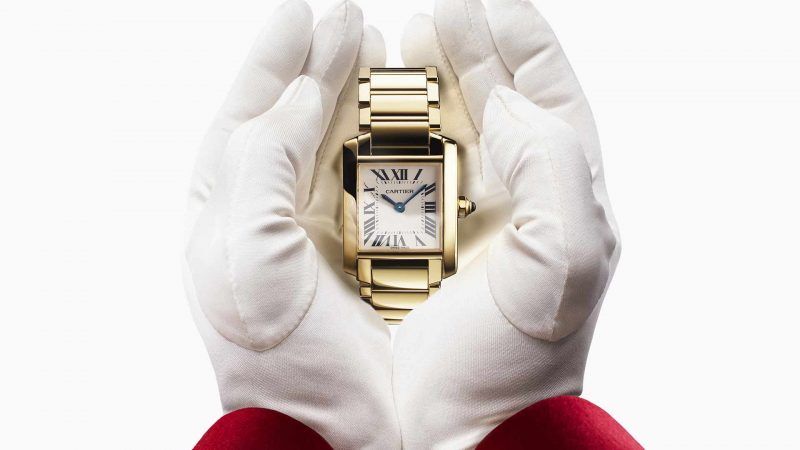 These watches are without a doubt some of the most beautiful and valuable possession to have. The best way to keep them safe is good care and regular upkeep.   
Upkeep requires the wearer to regularly service the watch. Regular service prevents extensive damage and helps watches look good and work well.  
Best Cartier Watch Repair Center Mumbai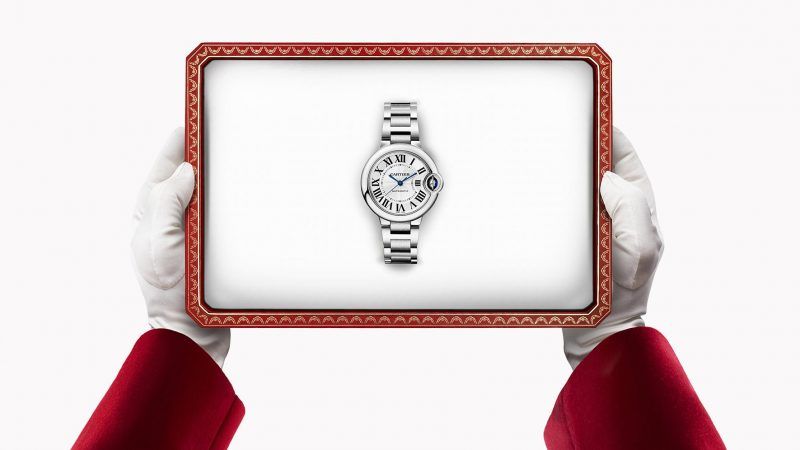 Looking for a Cartier watch repair center near you? Look no further, My Watch Merchant is exactly what you need. My Watch Merchant has been repairing, servicing, and caring for watches for over 7 decades. Our experts specialize in not just preserving your watches but also repairing watches that have been needing service and repair for a long time. 
Watches like Cartier need special equipment and people trained to handle them. We at My Watch Merchant have both of these. We have helped Cartier owners hold on to their watches for a long.  
If You Have a Luxury Watch That Needs Servicing and Repair; We Can Help You.