Victorinox Watches – Amazing Facts, Movements and Servicing Them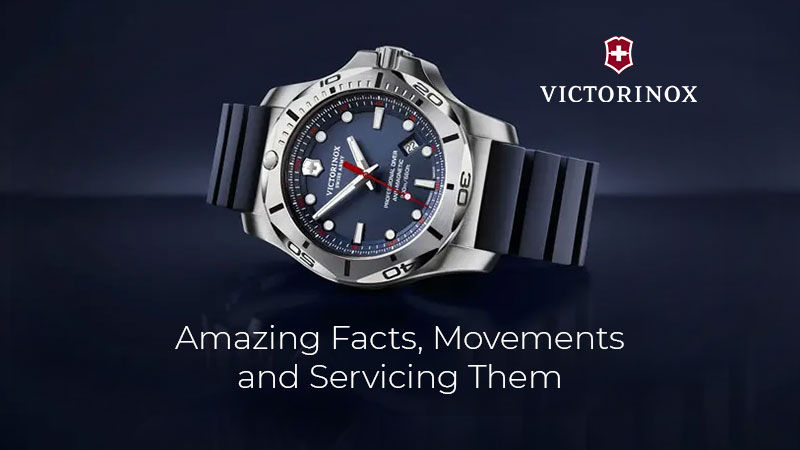 Victorinox is a name well known for not just their watches but also for their formidable Swiss army knives. The Swiss Army knife, a multi-tool pocketknife manufactured by Victorinox is their first and most renowned product. The company that created these products was founded in 1884 and named Messerfabrik Carl Elsener, the workshop of Karl Elsener in Ibach.  
In 1891, Elsener co-founded an association of Swiss knife manufacturers, Schweizerischer Messerschmiedverband. He patented and internationally marketed what would later be known as the original Swiss knife. His company was later named Victoria in honour of his deceased mother who passed away in 1909. The company's name was changed in 1921 to Victorinox, which is a combination of Victoria and Inox, which is a blend of the words 'acier inoxydable', a French word for stainless steel.    
Under the Swiss Army brand in the United States, Victorinox entered the watch-making business in 1989. Since then, it has become a name to be reckoned with in the world of watches for its functions, variety, design and durability. Today Victorinox is one of the favorites among watch lovers and collectors.   
The beauty of Victorinox lies in its variety, no matter who you are, there is a Victorinox for you. Let's take a glimpse at the world of Victorinox watches.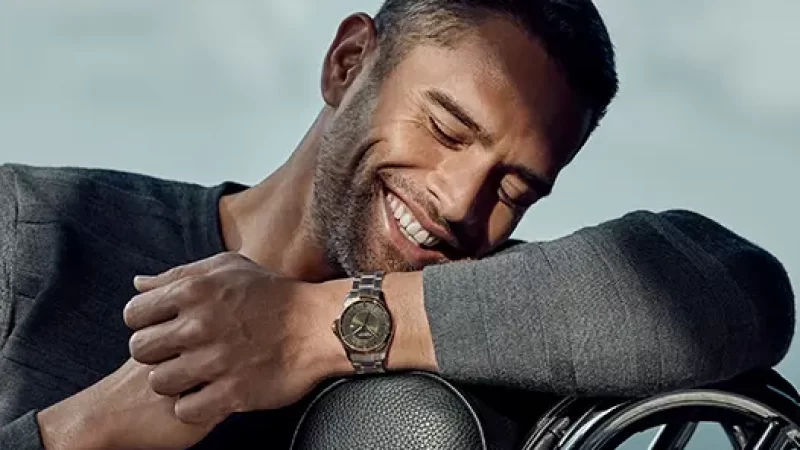 Men's Victorinox is a highly reliable timepiece that has both longevity and durability. The iconic design of these watches is visible in the harmony of design and materials in all the collections. These watches are multifunctional, and the collection of men's watches is varied so there is something for every occasion, be it an adventure trip or a boardroom meeting.  
What makes these watches special is the use of technology along with high-quality material to create machines that are brilliant in function and look.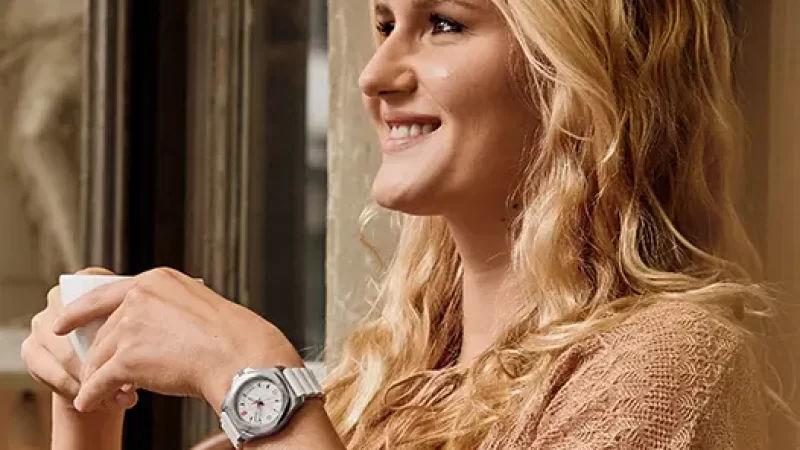 Women's watches are created to be a timeless companion for women. Women's watches are designed to range from elegant, and classic, to sporty and chic. These luxury watches are equipped to be high performing and reliable. They are also tough and have absolute accuracy in time telling.   
All of the materials used in creating watches for women irrespective of the collection are made in materials of high quality to ensure longevity.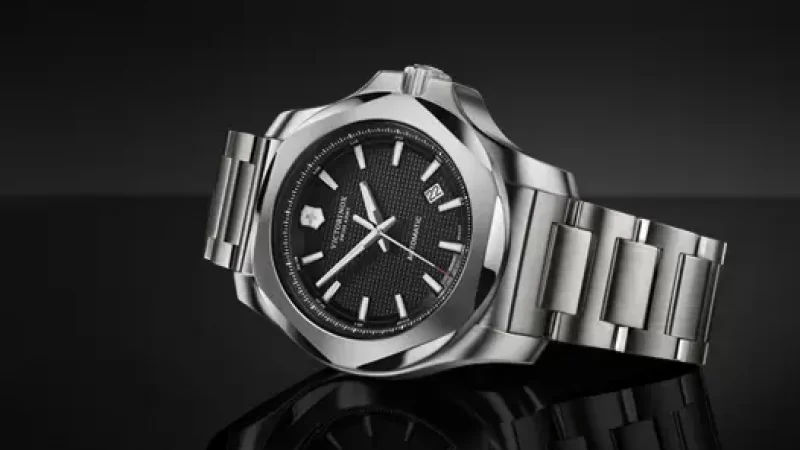 Mechanical watches are a masterpiece and truly reflect a watch maker's skill. Victorinox's mechanical watches are namely of two types, hand-wound or automatic mechanical. Victorinox mechanical watches are equipped with Swiss automatic movements which ensures the highest accuracy and precise timing. Victorinox automatic mechanical watches have transparent case backs. You can see the intricate mechanism of screws, springs, cylinders, and cogwheels inside these watches.  
Mechanical watches have complications that are useful in day-to-day function. These watches are available in different collections. Their high-quality materials and smart, functional designs make them highly desirable.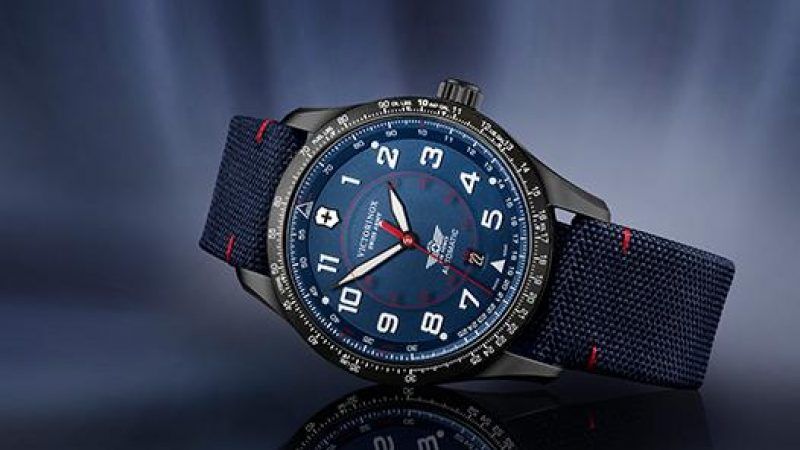 These aviator watches have a design that showcases clarity and vision. Its functions have both precision and power. These watches were favored by aviators who relied on their functions and toughness to last extreme changes. Aviator watches and their function have changed throughout history but what hasn't changed is the demand for accuracy and reliability in a Swiss pilot's watch.   
The pilot's watch is designed to be masculine, strong, and big. Pilot's watches have rotatable bezels that can be moved in both directions. From the bezel, the pilot can read the flight minutes and use the additional minute display as a navigation aid. These watches are multifunctional, stylish and of superior quality among luxury watches.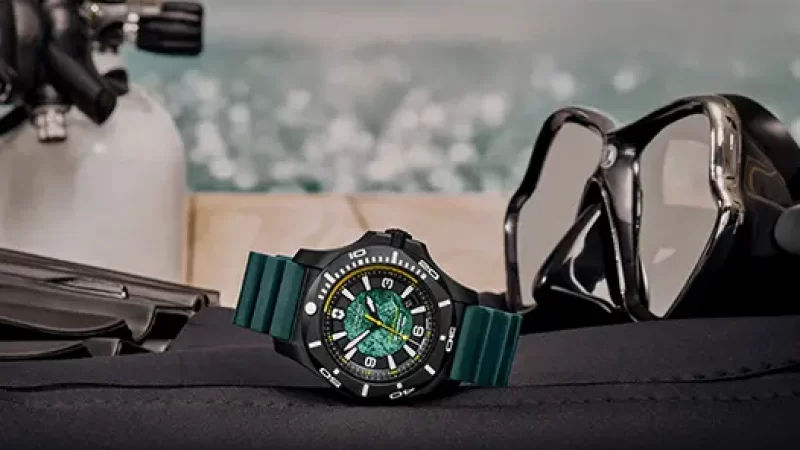 Diving watches must function under extreme pressure, and be reliable and accurate. Victorinox Swiss diving watches are waterproof to a depth of 100 meters. In a diving watch, the rotatable bezel is used to monitor the dive time. Featuring a diver's scale with 5 minutes markings and a luminous 0-minute point, it can only be turned in one direction. This prevents accidental time extension or resetting of the time.  
Therefore, the diver's bezel must fit securely and be easy to use at a depth of 30 meters. When divers descend to deeper depths of water, visibility becomes more difficult as it gets darker. This is why every model in their collection features Super-LumiNova luminosity and triple anti-glare, anti-reflective sapphire glass. They are strong, comfortable, durable, and innovative watches.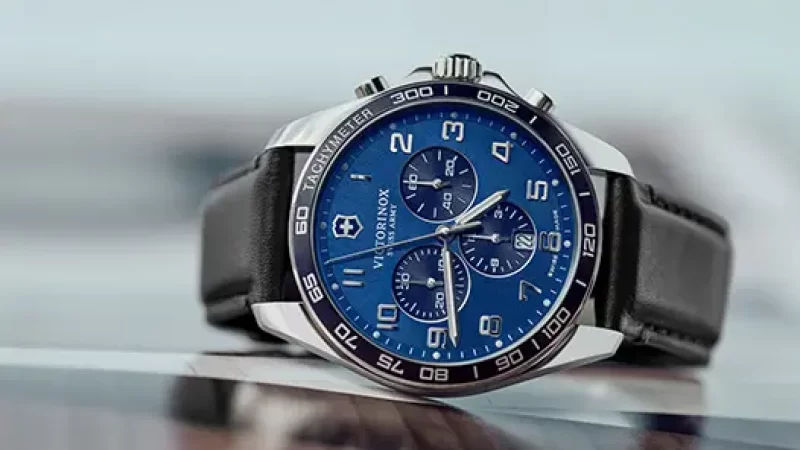 The Swiss chronograph watch is generally considered an all-rounder. They look sporty and have multiple functions. Despite the fact they are called men's watches many women wear them. A Victorinox chronograph watch combines smart multi-functionality with technological innovation. The case is made of Swiss stainless steel and triple coated.   
It also has anti-reflective sapphire glass; all of this makes Victorinox chrono watches extremely durable. They also have a double-locking safety clasp in selected models, ensuring protection against watch loss. Victorinox chronograph watches are available with quartz or mechanical automatic movements; their robustness ensures that these watches also last long.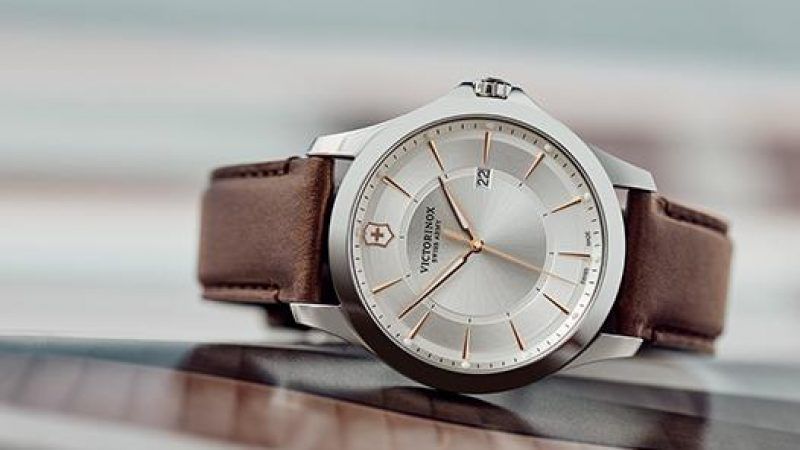 A business watch, also known as a dress watch, focuses on the most significant details. They are not cumbersome, but elegant and understated while still perfectly serving their purpose. Analog watches with three hands for hours, minutes, and seconds are the archetype for these models. A Victorinox business watch offers classic style as well as multiple features that set the benchmark for both design and function.  
These watches are perfect for formal attire and aren't bulky enough to encumber your cuffs. Both genders enjoy wearing these watches. 
Victorinox watch collection 
Victorinox Swiss Army Airboss
AirBoss' Mechanical Chronograph Collection was designed to be dependable and accurate. Air Boss, the countdown commander of aircraft carriers, is the inspiration for this. Each take-off and landing time is determined by the Air Boss, a process that demands precision and exactitude. These are the qualities that can be expected from an AirBoss watch.   
Victorinox Swiss Army Alliance
The Alliance Collection represents resilience and strength without being too flashy. In other words, understated yet perfect execution of the task. But what it belies is the subtle strength, perfection, and qualities that any watch lover would prize. This collection is a perfect combination of the finest Victorinox craftsmanship, innovation, and excellence in quality.    
The Maverick Collection represents the daredevilry of deep-sea diving. This is an area where timing, accuracy, and perfection determine everything. Featuring a unidirectional bezel, these fashionable watches are ideal for diving. Divers can use this function to record exact underwater times.   
This watch is well regarded for its visual appeal on land. In addition, sapphire crystal extends the longevity of the watch. It has functions that are perfect for navigating the trappings of a demanding modern life.     
FieldForce Collection combines a distinctive design with gear-shifting display technology. Its prime focus is on legibility, with prominent, distinctive numerals and large-sized hands coated with Super-LumiNova® for 24-hour, day-and-night visibility. The GMT function on some models keeps track of dual time zones, while others offer a chronograph and tachymeter. It is also regarded for its durability. The Swiss Army Knife heritage shines through in every FieldForce piece.    
Under the FieldForce collection, you have   
ForceField Sport  

 

ForceField Classic  

 
The I.N.O.X. collection is built for a life full of adventures. This watch is a perfect companion for sports and other strenuous activities. This collection features myriad types of watches that all share the distinct quality of resilience and style. These watches are made from some of the toughest materials like carbon composite, titanium, and stainless steel. It has a bold and powerful design that compliments its robustness and excellent features.   
Under I.N.O.X collection you have   
I.N.O.X. Professional Diver 

 

I.N.O.X. V Watches 

 

I.N.O.X. Mechanical 

 

I.N.O.X. Carbon 

 

I.N.O.X. Titanium 

 
How do you care for Victorinox watches?
Victorinox watches are easily some of the toughest and most reliable watches. However, all watches irrespective of their toughness require regular servicing. Often certain parts may need to be replaced or serviced to ensure that these watches stay in top-notch condition. Therefore, it is vital to get your Victorinox checked and serviced regularly.   
But these special watches require experts who can handle them well. This means you cannot simply hand these over to your local watch repair shop. Your Victorinox needs specialists in luxury watch servicing like My Watch Merchant.   
Best Watch Service for Victorinox Mumbai
My Watch Merchant is one of the best luxury watch repair centers. We are well-versed in luxury watch care and repair. For over 7 Decades we have handled all kinds of watches.   
We have a team of highly trained professionals who use the most sophisticated tools to service and repair watches. With our level of care and expertise, your watches will get the best care.   
Let My Watch Merchant Help You Keep Those Victorinox Looking and Feeling Brand New!