All You Need to Know About Casio Watch Care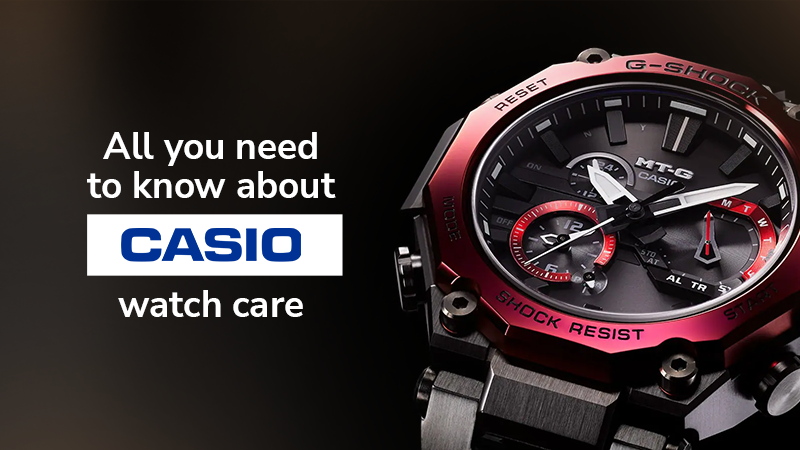 Casio as a brand has been around since the early 1950s. They hold a place of pride in the world of electronics. However, their venture into the world of timepieces is what we are going to take a close look at today. After all the world does love Casio watches. Unlike some of the biggest names in the world of watches, Casio is relatively new. But in only a few decades, Casio has managed to carve out a niche spot in the world of famous timepieces.   
Casio watches are a part of the electronic giant Casio Computer Co., Ltd otherwise known as Casio. They have marked their place in history as some of the most smartly created and most durable watches.  Its history can be traced back to Japan and the four Kashio brothers, the namesake of this brand who founded company. Each of the Kashio brothers, Tadao, Toshio, Kazuo, and Yukio brought something unique to the fold and that's why each of the Casio products is a work of creativity and science.  
The company was established as Kashio Keisanki, and later re-named Casio. Casio watches made their debut in the 1970s. Since its launch, Casio has introduced various types of watches, all of which have only highlighted what the brand is capable of and why you should own a Casio watch.   
Let's take a sneak peek at watches and why people love them
Watches made by Casio last a lifetime. They are highly reliable and trustworthy companions that can bear trying conditions. In short, a little roughhousing won't harm Casio. They are built to endure.  These watches are water resistant and can survive small amounts of shocks that most watches wouldn't. They also have fantastic battery life.   
Most high-end watches are known to burn a hole in your pocket, but not Casio. While not exactly inexpensive, Casio is quite affordable. However, a lower price tag does not mean cheaper quality. Casio stresses superior quality, design, and functions.   
Celebrities have a soft spot for Casio watches. While most are known for their preference for high-end watches and rare editions, many celebrities have been spotted wearing Its long list of celebrity lovers includes Bill Gates, Sarena Williams, Dwayne Johnson, etc.   
Casio understands that watches aren't one type that fits all. Therefore, with Casio, you have an impressive variety to choose from. Types of Casio watches include G –Shock, Baby G, Edifice, Sheen, and Protrek.   
Let's take a deeper look into the types of Casio watches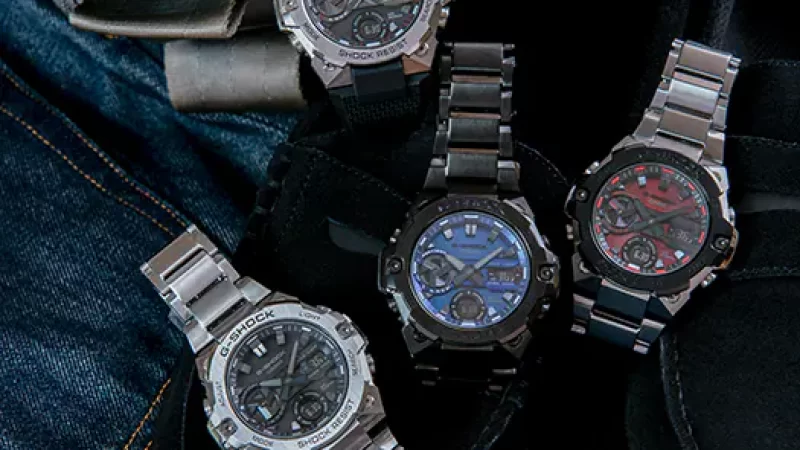 G-Shock is the watch that embodies the toughness in watches. With a plan to create something that can last and handle human errors and recklessness, the concept of G Shock was born. G Shock is a combination of strength, performance, and functions with toughness. This watch is not just water resistant but also shock resistant.  
Its accuracy in time telling is excellent. G shock watches can be linked to smartphones. It acquires and analyzes positioning and time information from GPS satellites, determines the current time zone and daylight savings time, and displays the correct time. Moreover, these watches have Casio's proprietary solar charging system. This powerful system can convert not just sunlight but also weak sources of light such as fluorescent lamps, into power.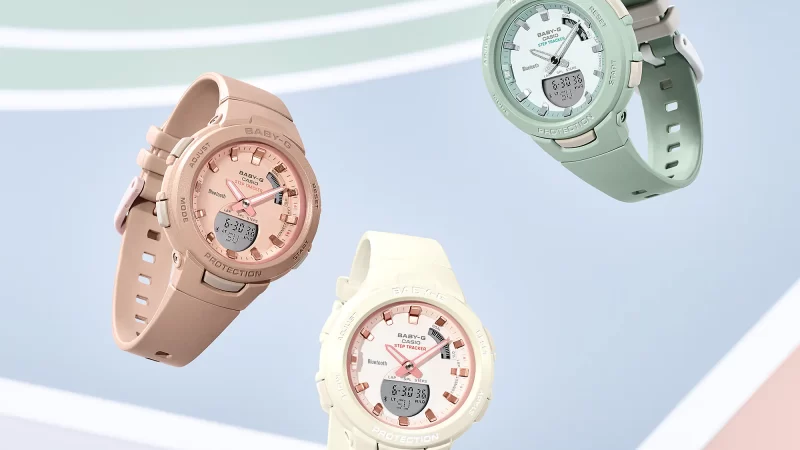 For those who say toughness and femininity don't go together, Casio would disagree! Baby G watches were introduced to the world in 1994 as women's watches. These watches debuted with the same concept of toughness as G-Shock. These watches have a shock-resistant structure and power of water resistance.   
They are designed with women in mind and have impressive designs and colors that women would favour. This watch is especially suited for women who prefer to have an action-packed lifestyle yet are fashionable. This watch is an embodiment of strength, beauty, and utility.   
The edifice is a multi-function chronograph from Casio that shows their commitment to imbibing the best technology in their products. Edifice watches have multiple functions like multiple dials to the world time and multiple alarms. These watches were made to appeal to those who are engaged in professional careers.   
In addition to basic chronographs, Edifice also has computerized movements in more advanced models. Many Edifice watches also have 'Tough Solar', Casio's solar-powered batteries.  Depending upon the model, these watches have Bluetooth, which means users can connect them to their smartphones and share chronograph data.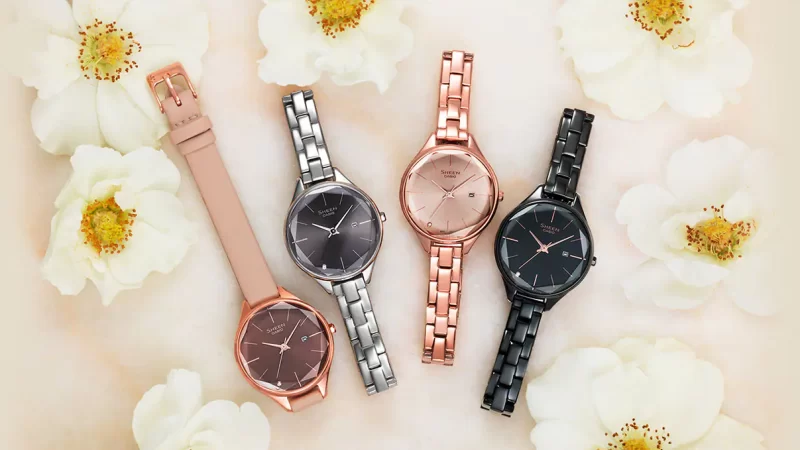 As its name denotes, Sheen has a subdued element of shine to it. What isn't subtle is the elegance, grace, and pure class it exudes. Sheen watches live up to their promise of 'Elegant, Smart, Shining'. These watches are tough and scratch resistant. The excellence of Japanese technology that powers Casio makes Sheen remarkable.   
It's water resistant, it's beautifully slim and it is the elegant watch you want on your wrist for that glamour and glitz. It's practical, beautifully designed, and bears all the hallmarks of Casio products encased in a beautiful body.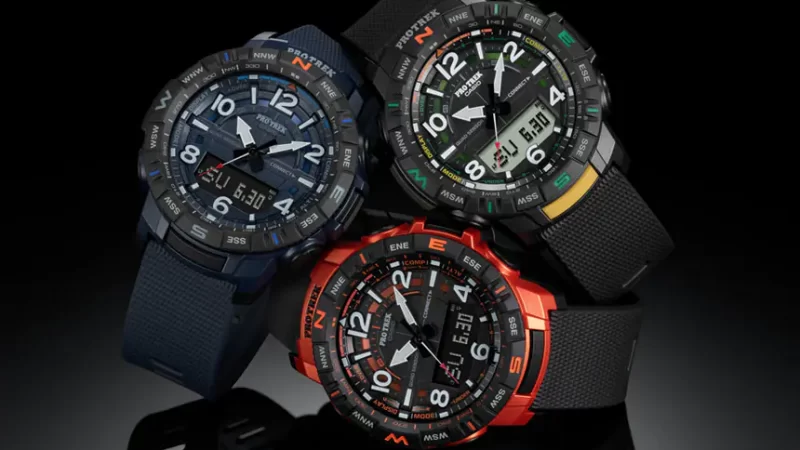 Pro Trek as the name suggests was built to be the ultimate gear for the outdoors. Since its debut in 1994, Pro Trek has evolved to be the best tool anyone can have for untamed outdoors. Pro Trek is equipped with 'Triple Sensor, Ver. 3', that can measure directions, atmospheric pressure, temperatures, and altitudes. It also has solar-powered timekeeping, water resistance, and everything you would need for rough outdoor activities or adventure sports.   
These watches can be linked to your smartphones and have various smart features like a pressure sensor, temperature sensor, acceleration sensor, etc. Pro Trek has a wide range of models and watches lovers can choose from based on their needs. For those who love to have reliable technology for adventure activities, Pro Trek is the watch they need.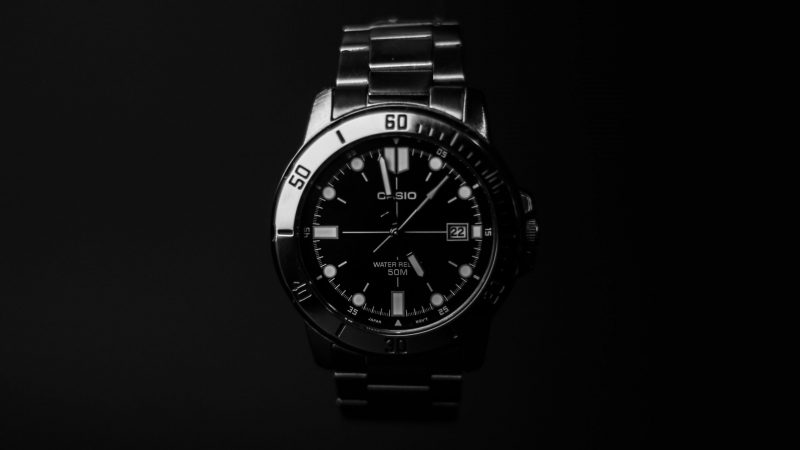 Casio watches don't need much from their wearers. This is a watch that can withstand a lot of things that other watches can't. However, this in no way implies that you can treat your watches with disregard. On the other hand, the more you care for them, the longer they last. Like most watches, Casio needs repairs if there is any damage and it also needs regular servicing to function well.   
Best Casio Service Center in Mumbai
My Watch Merchant is well versed in the serving and repair of all types of watches. Your Casio watches will be handled expertly by our highly trained and seasoned technicians. We used the most advanced tools and techniques for the best results. We have both the experience and expertise to handle your watches with care and skill.  
We Can Help Your Casio Stay Brand New for a Very Long Time!