Great History of OMEGA Watches and How to Care for Them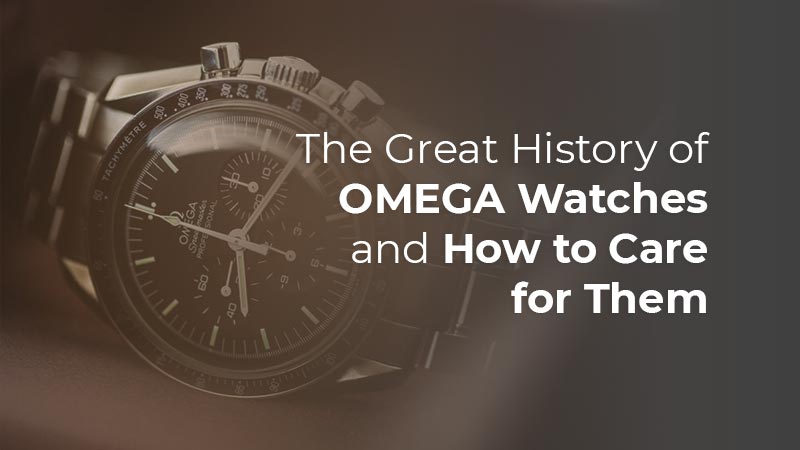 Omega watches need no introduction. Omega watches occupy a place of pride in the world of luxury watches. These watches set the benchmark for excellence in watchmaking. It's not just the make, the model or the mechanism, Omega has transcended beyond all this. Omega watches have a long and colorful past. These watches don't just have an interesting history, they have been an active part of creating history.  
Founded by Louis Brandt in La Chaux-de-Fonds in 1848, Omega today is a part of the Swatch group. From being associated with the world's favorite fictional spy James Bond to being the first watch to make it to the moon, Omega certainly has an indomitable presence in the world of timekeeping. Omega watches have also frequently been the timekeeper at global sporting events like the Olympics.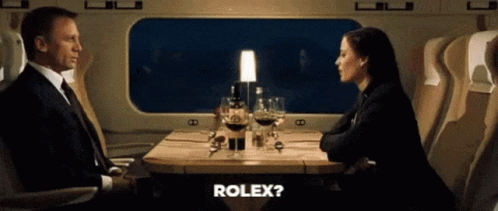 Omega watches are definitely a collector's beloved possession. Watch lovers who prize a watch for its design, performance, and quality would want an omega watch to be a part of their collection. But what is it that makes omega one of the most cherished timepieces? Let's find out.  
Omega did not end up on the moon or at the Olympics for its popularity. These watches are known for their precision in timekeeping. They are championed for their durability. Which makes them dependable companions. Omega watches are known for their high quality and excellence in design.   
The watch's complex mechanisms are a testament to the intricate engineering details. These watches are built to last long and perform well.   
Omega has never shied away from innovation. They are constantly evolving as time goes by but also adhering to the age-old quality and elegance they are known for. They explore and utilize different materials. For example, Omega uses materials that include metal alloys, ceramics, and silicon.   
Their designs, the models they launch and any upgrades they announce only add perfection. Their quest to create strong, practical, and tasteful timekeeping devices has made omega the prime brand it is today.  
No description of omega is complete without talking about its journey to space. NASA has relied on Omega watches for over 50 years, as their timekeeper of choice in space journeys. The Omega Speedmaster Professional Moonwatch has left an indelible mark on history as it was the first watch to make its way to the moon. This was the watch Buzz Aldrin wore when he stepped on the moon.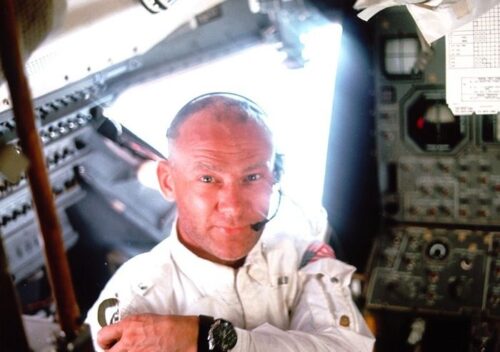 Since its debut journey to the moon, the Moonwatch has now been worn at least 6 times on the moon. This is a distinction not many brands can claim.  
Switzerland is known for its watches. Some of the biggest and the best luxury watches are associated with them. This adds to their USP and helps them fetch a higher brand value. It's no secret that watches lovers love Swiss-made watches, and that includes omega as well.  
Omega's history is a long and decorated one. Over the century this brand has evolved, yet retained its quality and added to its features. Omega not only has an impressive backstory but also has been a part of historic events.   
To own an omega watch is to own a timekeeping device that is iconic and of a high standard.   
Constellation made its first appearance in 1962. The constellation watch collection is a range that has a deep history and is preferred for its accuracy. There is a whole selection of elegant watches that is perfect for every occasion in the constellation range.   
There are over 400 different models to choose from for both men and women. Apart from the unique style, what makes these watches special is the high‑quality materials that include Omega's emblematic alloys, gold, and stainless steel.  
These watches are available in cases of 25 mm to 41 mm and can be worn with leather straps or metal bracelets.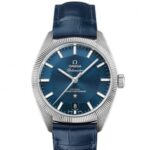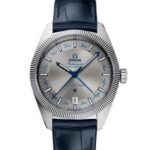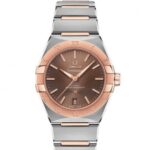 OMEGA Seamaster has a history that can be traced back to 1948. These water-resistant watches are known for being perfect for adventure while bearing hallmarks of innovation. Seamaster is crafted in such a way that it's an ideal companion for everything from sporty adventures to boardroom meetings.   
The watch models in this collection come in a wide range of materials and sizes. You can choose from powerful titanium, classic gold, or stainless steel.   
Some of the most iconic watches from its historic past are up for choice in this collection such as Seamaster 300, the Railmaster, Ploprof, Bullhead, and Olympic Games tributes.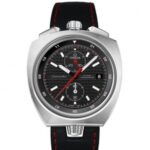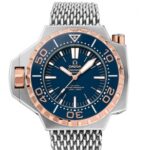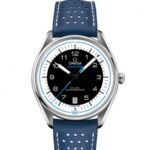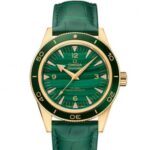 Speedmaster is a name that's etched in history. No other watch in the world has been a part of space explorations like Omega Speedmaster. Omega's tryst with innovation and their persistence in excellence has given the astronauts and pilots an excellent companion.   
These watches are an impressive mix of functionality and aesthetics. In every chronograph, you'll find a multifunctional quartz movement housed in a titanium case known for its strength and lightness. The display backlight and countdown timer can be controlled via the crown, while there are also alarms, an audible time signal, and an audible alarm tone. These watches are available with titanium, black rubber, brown leather, and NATO strap. 
These watches are designed to represent class, sophistication, and perfection while being perfectly suitable to meet every demand of an adventure.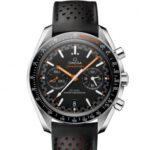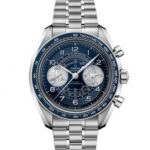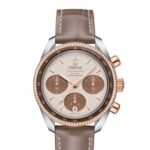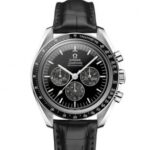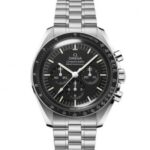 There are 4 types of Omega watches in the De Ville collection.
Launched in 1955, the OMEGA Ladymatic was one of the world's first automatic wristwatches created especially for women. These watches were a blend of ingenuity, feminine elegance, and sophistication.   
The watches feature cases measuring 34 mm, and they are available in stainless steel, red or yellow gold, or a mix of both. In certain models, the bezel or the dials might feature diamonds. These watches have metal or leather straps that are a perfect combination of their overall design.   
Ladymatic watches have the unique OMEGA Co‑axial Calibre (8520/8521), which ensures that it has an excellent standard of precision and performance. All in all, this is a combination of beauty and functionality encased in a package that appeals to women.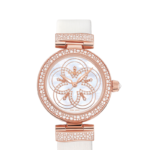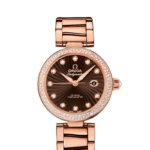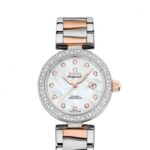 The Trésor collection is a study in accuracy and sophistication. This collection has watches for both men and women that are suave. These luxury Swiss made an appearance in 1949, and are pretty much still on top contenders among the most preferred watches around the world.   
The materials used in the watch include cases made of gold or stainless steel. The straps consist of leather or fabric and are worn in sizes from 36 mm to 40 mm.  
In this collection, the ladies' watch models feature diamond décor and roman numerals that add to the grace of the watch. The men's wristwatches are praised for their mechanical movements and simplicity that exudes charm. Above all, is the fact that these watches are loved for their performance and their resistance to magnetism.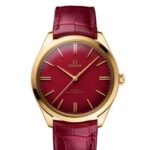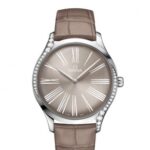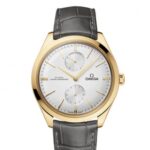 One of the most popular brands, the prestige collection is both beautiful and precise. These watches are available in yellow gold, red gold, and stainless steel for men and women.  
Featuring Roman Numerals and sometimes diamond cabochons, the designs are always elegant and refined, often in gold.   
OMEGA Prestige watches have precise quartz movements or OMEGA Co‑Axial calibers. They also have interesting and useful features such as a date display, a small seconds function, and the power reserve indicator.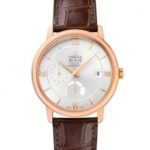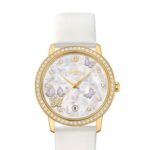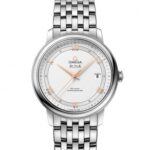 The Tourbillon collection pays homage to the art of watchmaking. These handcrafted watches are luxury timepieces that are a perfect example of omega's renowned penchant for accuracy and excellence in quality.   
These watches are available in leather straps made of the best materials. Their cases are 18K gold or 950 platinum. The best part of these watches is the innovative calibers, that have a central‑tourbillon display. These calibers can be seen through the transparent case back in certain models.  
These watches are available in manual-winding or self-winding options, as well as 38.7 mm and 44 mm sizes. Tourbillon timepieces can consist of black, blue, or skeletonized dials to contrast the cases and hands.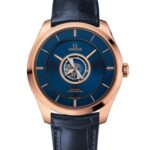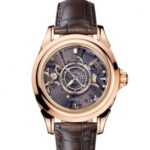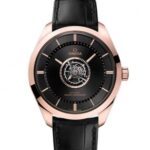 From the depth of the oceans to unexplored space, truly the sky is not the limit for Omega watches. If you own an Omega watch, you know that you want to keep these watches with you as long as you can. This is easy as Omega is quite durable which guarantees its longevity.   
All watches need regular servicing and this is not to be taken lightly.  If you are looking for an Omega watch service center or an Omega watch repair center that you can trust, look no further than My Watch Merchant!  
Take a look at some of our previous work
From the depth of the oceans to unexplored space, truly the sky is not the limit for Omega watches. If you own an Omega watch, you know that you want to keep these watches with you as long as you can. This is easy as Omega is quite durable which guarantees its longevity.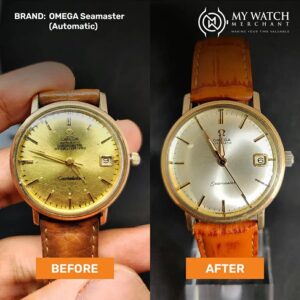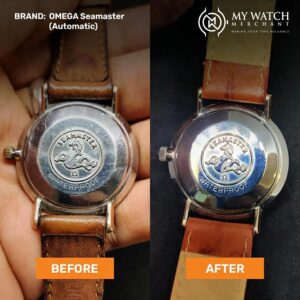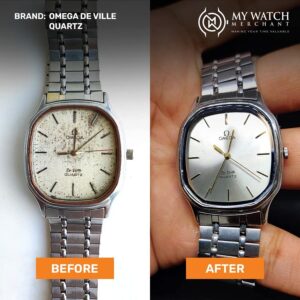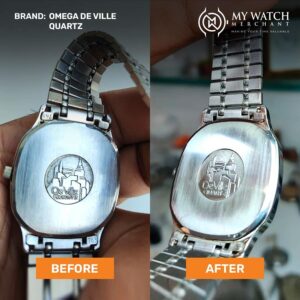 Service Center for Omega Watches - My Watch Merchant
My Watch Merant isn't just an ordinary watch repair center or watch service center. At our core, we are watch lovers. Therefore, we believe in providing the best possible service to every watch owner.   
If you are looking for a place that is perfect for Omega watch servicing or Omega watch repair, your search ends here. Our experience in luxury watches repairs spans decades. We use only the best equipment and the best techniques for every watch that is entrusted to us.   
Your luxury watch deserves only the best care, which is exactly what we provide.   
Get Your Omega Watches the Best Professional Care They Get at My Watch Merchant