Ultimate Guide to Breitling Watches and Their Care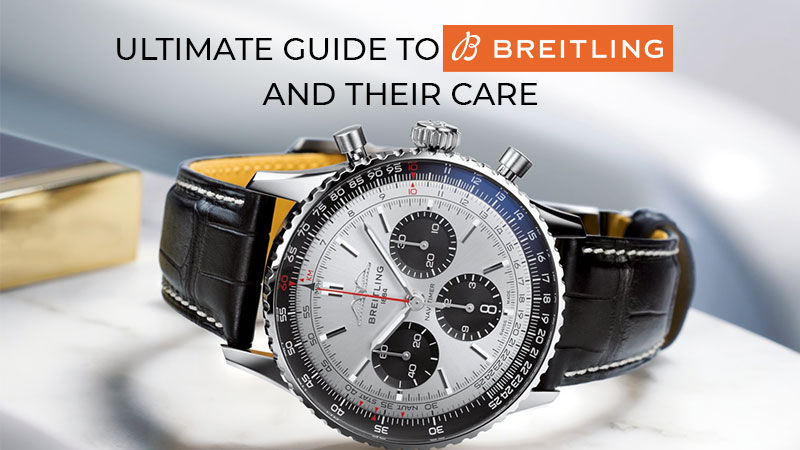 Amongst the scores of luxury watches that emerged from Switzerland, Breitling is yet another gem that shines brightly. Breitling is one of the rare Swiss watch brands that to this day remains an independent company. These watches are an excellent example of Swiss craftsmanship in watches. These watches are not just stunning in their design but also have absolute accuracy.   
Breitling watches can trace their history back to 1884. It was founded in Saint-Imier, Switzerland, by Léon Breitling. Breitling is quite focused on creating watches that are a masterpiece and a work of art. They are also uncompromising in their ideals of accuracy. As a matter of fact, Breitling's watch movements are tested by the Swiss Official Chronometer Testing Institute (Contrôle Officiel Suisse des Chronomètres, or COSC) to ensure high accuracy.  
All this just makes it one of the most desired watches. Apart from their beautiful designs and accuracy, these watches are always preferred for their variety. Among its models are men's and women's watches for every occasion, from tough work watches to classy dress watches.  
It's time to venture into the world of Breitling watches and know why they are such prized possessions for those who already own them, we have some handy tips on Breitling watch servicing and repair.   
Types of Breitling Watches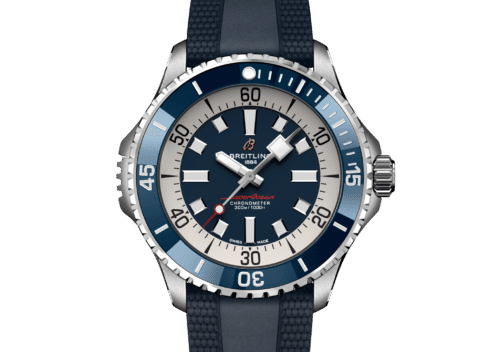 Superocean collection of watches are innovative, sturdy, and reliable. These watches aren't just a good example of watch craftsmanship but are also available in a variety of colors. As the name suggests, these watches were built for deep-water adventures. So, users can use these watches for diving, surfing, swimming, and other water sports. They are stylish and strong beach companions. Underwater exploration is a part of Breitling's legacy, this is well documented in their superocean collection.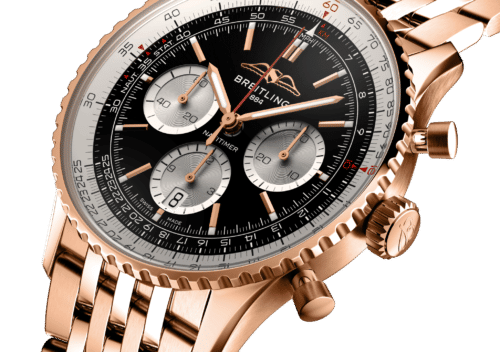 Breitling's Navitimer has been a classic mechanical chronograph for 70 years. Navitimer is one of the first few aviation watches. It was built to help pilots navigate the skies and flights easily. Early models could be used to calculate climb and descent speed, fuel consumption, and airborne time quickly and easily. Over the years Navitimer has a host of functions added to it. All of which add to the reliability and precision of the watch.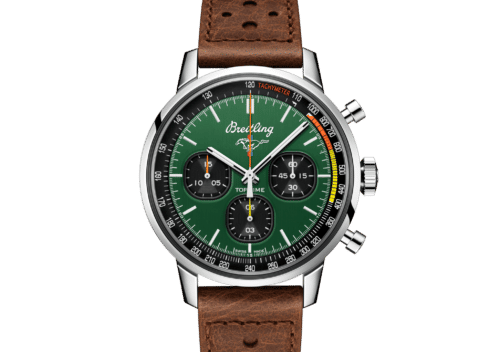 Top Time made its debut in the 1960s and instantly became associated with individuality thanks to its innovative dial design. Keeping time was never the only goal of the Top Time collection. With its design & performance, the Breitling Top Time appeals to both men and women who enjoy the fusion of aesthetics and history. It was designed to appeal to a young and vibrant generation by being both bold and elegant in function and style.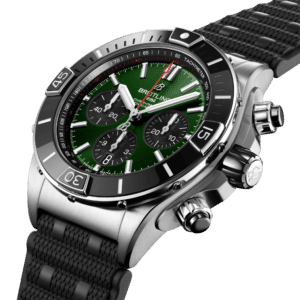 A collection of automatic chronograph watches for men, the Chronomat, was released by Breitling in 1984 to commemorate the company's centenary. Its design stands out for being chunky and heavier than most. With a diver's bezel and a chronograph function, the Chronomat is a durable and reliable watch. When worn it looks imposing and impressive, making it suitable for everyone who wants a watch that is functional, strong, and suave.  
Professional breaks away from the usual Breitling fare. This collection consists of Quarts-powered watches that are designed to be both smart tools and lifesaving equipment. Under this collection Endurance Pro, Emergency, and Aerospace.   
Endurance Pro – The model has a case made from Breitling's proprietary Breitlight material. This watch has a bidirectional rotating compass bezel and is supported by an exceptionally precise, thermo-compensated SuperQuartzTM movement, which is accurate to just 15 seconds a year. These are available in a range of bold colors making them suitable for active lifestyles.  
Aerospace Evo – As the name suggests, this watch is perfect for pilots and works more like a computer with its functionalities. It has alarms, timers, a calendar function, and additional time zones. All this is packed into a robust, durable, and wearable package that incorporates Breitling's key design elements.   
Breitling Emergency – This model has multiple in-built functions that make it perfect for extreme adventure and outdoor activities. PLBs (Personal Locator Beacons) are built into the device. The device emits a distress signal to alert rescue authorities that the wearer is in danger. This is a strong watch built to be a reliable companion for those who like living life on the edge.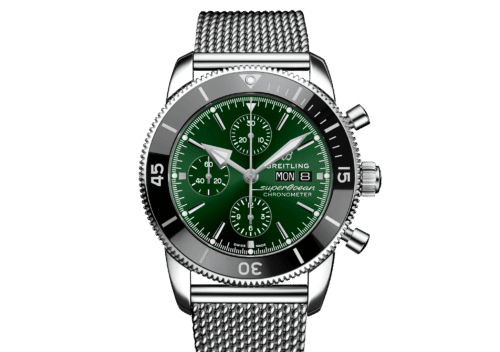 Breitling Superocean Heritage watches were specifically designed with professional and military divers in mind. They are a tribute to the first 1957 Superocean model. Superocean Heritage celebrates Breitling's legacy of great dive watches. A reinvented design blends classic design with state-of-the-art technology. Superocean Heritage collection pays homage to the superocean collection. Its innovation with modern materials and manufacturing techniques makes it perfect for new generations that would own these watches.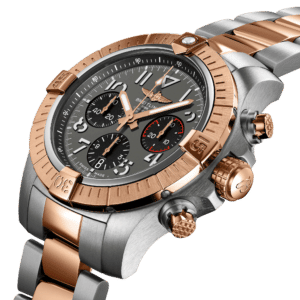 The word Avenger today is synonymous with action and adventure thanks to Marvel movies. But these watches fit well with the narrative as Breitling's Avenger collection was built for both action and adventure. The Avenger watch models are hulking and chunky. The watches are designed for intensive professional use and are built for maximum durability. These watches are ideally suited to be used by pilots, divers, and everyone who leads an active lifestyle.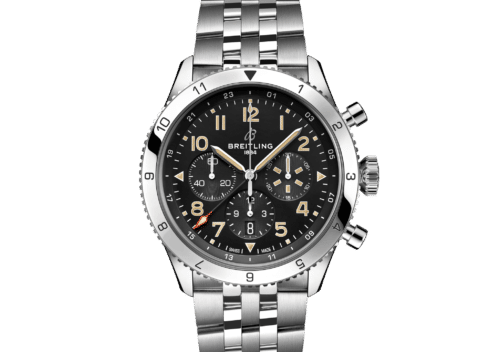 A tribute to Breitling's aviation history, the classic AVI collection is based on the design codes of the ref. 765 AVI co-pilot. It was inspired by the cockpit clocks made by its Huit aviation department in the 1930s. A highly legible dial and a tough case pay tribute to the classic AVI's unique history. This collection honors four legendary planes: the Curtiss P40 Warhawk, De Havilland Mosquito, Vought F4u Corsair, And North American P-51 Mustang.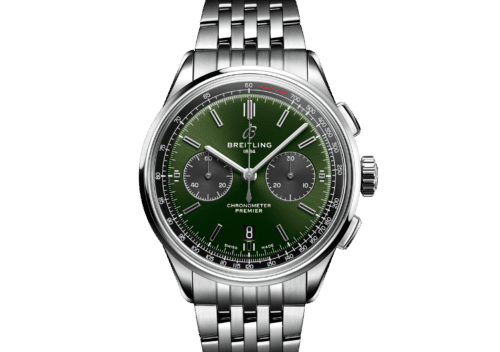 Breitling Premier was introduced in 1940. It was elegant and was regarded as a style statement. It has been reinvented with the same outstanding beauty and superior performance. Designed by Willy Breitling himself, the Premier was the brand's first watch that focused on fashion and elegance. This was a departure from their usual fare of serving watch owners who operated in the sky or under the sea.   
In contrast to Breitling's tough adventure and utility watches, the Premier shows a whole different side to the brand. With the Premier collection, Breitling reaches its highest level of sophistication and class.  
How to Care for a Breitling Watch?
Breitling watches are made to endure some of the most strenuous activities and survive the toughest conditions. All of this will eventually take a toll on the watch. If you own a Breitling watch, the best thing you can do is get it regularly serviced. Servicing or repairing a Breitling watch should to left to professionals like My Watch Merchant.   
Best Breitling Service Center - My Watch Merchant
For years, My Watch Merchant has helped scores of watch lovers hold on to their prized watches. We specialize in luxury watch repair and service. In the last 70 years, we have serviced all kinds of watches and helped watch owners keep their timepieces working in pristine condition.   
We use the best equipment and have a highly trained team of experts to deal with all kinds of watch emergencies. Owning a Breitling is great, but holding on to a Breitling for a long time is even better. We can help you with the latter part. 
For All Your Watch Care Needs, Get in Touch With My Watch Merchant!