Caring for and Servicing Your Rolex Watches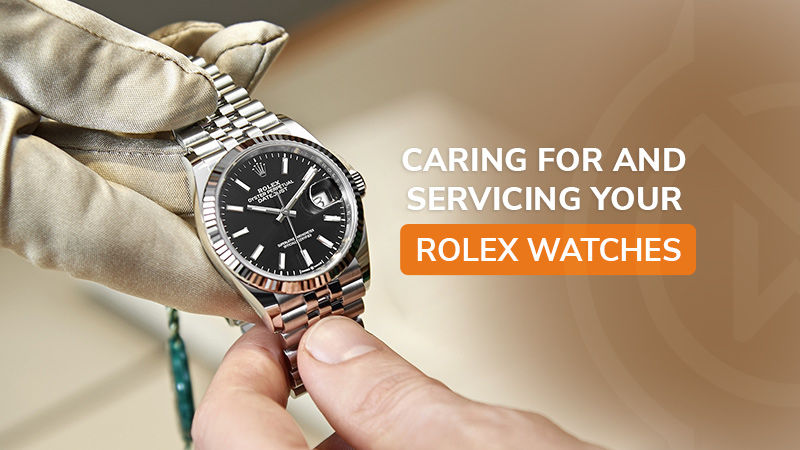 Rolex is the most popular and the most desired luxury watch brand in the world. Since its inception, Rolex has carved a spot for itself by being the epitome of class, elegance and fine craftsmanship.  Rolex is not just known for its fame but rather its superior product quality.  Therefore, owning a Rolex is not just a matter of good taste, but a matter of pride. 
Rolex is prized for being reliable, robust and sturdy. Its movement, just like many of its components, is handmade. This speaks of the brand's goal for perfection and attention to detail. The world of Rolex ownership gives its owners a glimpse into the cultural, symbolic, and financial value of this luxury watch.  
A majority of Rolex owners are some of the most accomplished and powerful figures in the world. This along with the rest of its qualities make Rolex a mark of success. With the world's most esteemed watch comes the responsibility of keeping it in good shape. These watches rarely lose their value even as time passes. So, it's important to keep them in good shape to increase their lifespan and keep them in mint condition.   
Rolex Watches Care For First-Time Users
How do you use Rolex for the first time?
If you are new to the world of Rolex, it's important to know how to handle it. Before being worn for the first time, it is essential to wind it manually, this is necessary for the watch to function with precision and correctly.   
Why should you wind your watch?
Wearing your Rolex daily will negate its need to be winded every day. Depending on the model, it will retain its charge for two days or more without you needing to wind it. In case you haven't used your Rolex in a few days and the watch stops, it is recommended to manually wind it before wearing it.   
Keeping it clean  
Rolex is a sturdy Rolex and requires very little day-to-day maintenance. The watch is waterproof so you can use mild soapy water and a soft brush to clean it. You can wipe it down with a microfiber cloth to preserve its luster. The winding crown should be screwed down properly against the case to guarantee waterproofness. 
How to Care for Your Rolex Luxury Watches?
Storing  
If you are wearing your Rolex watch every day, it is essential to store it well. This means giving it a denoted spot to avoid dings and scrapes. While Rolex is a sturdy brand, scratches, and shocks from falls will affect the watch. It should be stored away from dust, direct sunlight, and moisture. Never keep your collection of watches together, keep each of them in separate boxes to avoid scratches and dents.   
Upkeep  
Your Rolex luxury watches can last a lifetime, but it looks even better if you are regular with their upkeep. This means getting rid of dents, scratches, dust, body oil, and grime regularly. Make this a regular practice as brushing and cleaning will keep your watches looking brand new. Pay special attention to the strap. Always ensure that the winding crown is screwed in well to keep it safe from water damage, dust, and moisture.   
Service & repair  
It is important to get your Rolex wrist watches serviced at least once a year. People often choose an official Rolex service center for this purpose, however, if you have a luxury watch repair center near you that you can rely on, you can entrust your watch to them as well.
A full service covers cleaning, polishing, and buffing. Damaged parts should be replaced as soon as possible. The movement repair, performance check, lubrication, and strap cleaning are necessary.
Any kind of damage could be a threat to your Rolex's longevity; therefore, you should rush your watches to watch repair centers as soon as you spot damage.   
Rolex is not a delicate watch, however, to keep it as good as the day you brought it, it needs good care for wear and tear. This is precisely what we at My Watch Merchant provide. With over 70 years of experience in the repair and service of luxury watches, we know exactly what your Rolex needs.  
Our trained technicians are skilled at handling your watches with finesse. We use only the best of the tools for your priceless and cherished watches. If you have a Rolex that needs some much-needed care, My Watch Merchant can handle it. Let us help you keep your Rolex with you for a long time.   
Got a Rolex watch that needs maintenance and servicing?