Longines – History, Collection, and Care of These Watches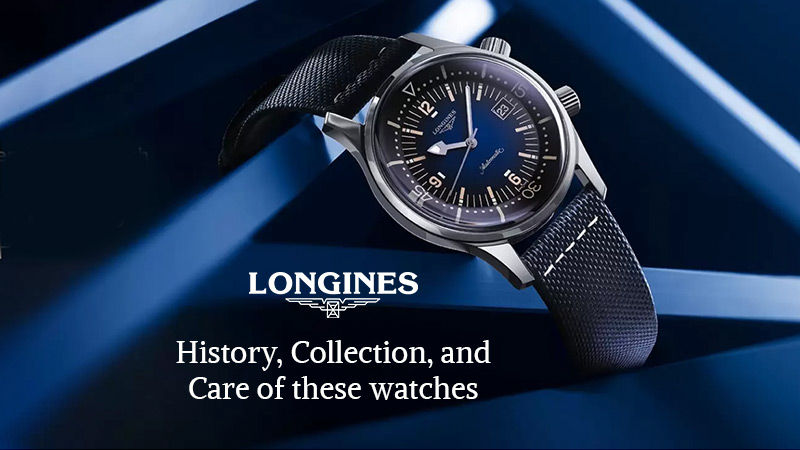 Switzerland has a glorious record with watches. Some of the top watch brands have emerged from Switzerland. So, it should come as no surprise that Longines belong to the list of exquisite luxury watches that originated from Switzerland. Compagnie des Montres Longines, Francillon S.A., or Longines as it is known, is based in Saint-Imier, Switzerland.   
Longines is a brand that has been around for over a century. It was founded by Auguste Agassiz in 1832 who along with his nephew Ernest Francillon brought some of the most innovative watches into our world. This company has been a subsidiary of the illustrious Swiss Swatch Group since 1983.   
Over the years Longines has created a myriad of watches. Their humongous collection is a testament to the fact that they rate innovation, durability, utility, and elegance over everything else. Today we take a look at why Longines is such a favorite among watch collectors. For those who already have Longines, we have some great tips on keeping Longines safe and brand new.   
Swiss-made Longines timepieces are not only exceptionally sturdy but also innovative. These watches are Swiss-made, which means that their caliber, or mechanical movement, are manufactured in Switzerland. Switzerland is known for its mastery of watch manufacturing. Their craftsmanship and use of high-quality materials are legendary.  
From the most fashionable watches to watches fit for sports, there is a Longines watch for everyone. Irrespective of the variety of these watches, their excellence in quality and performance remains the same.   
The Longines Elegant Collection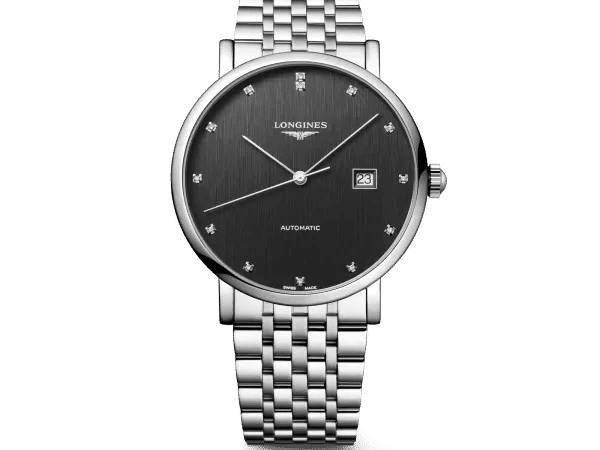 Longines watches have been the hallmark of elegance. Their dedication and focus on the suaveness of a watch is evident in the fact that they adopted 'Elegance is an attitude' as their motto.  The Longines Elegant Collection models are a blend of classic design and chic, stylish lines.  There is also a good choice in dials for those who seek variety. With self-winding and mechanical movements, these watches are a combination of class and charm.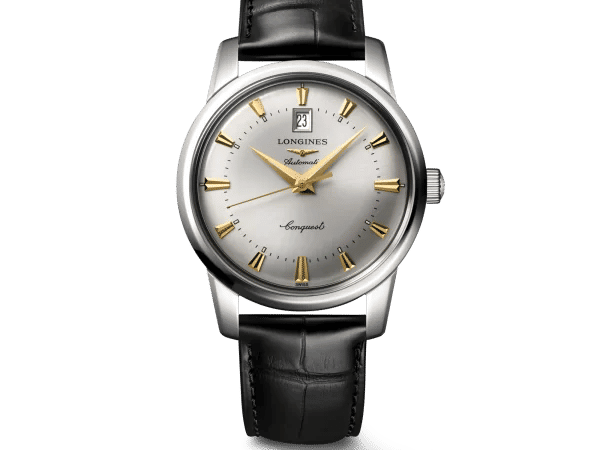 To create its most impressive watches, Longines pairs the timeless designs of its classic models with highly advanced watchmaking technology. Heritage Classic watches are a testament to Longines' pioneering spirit that drove them to create some of the most remarkable watches. Heritage Classic by Longines is a symbol of their craftsmanship as well as a commitment to creating watches that are an ode to their history.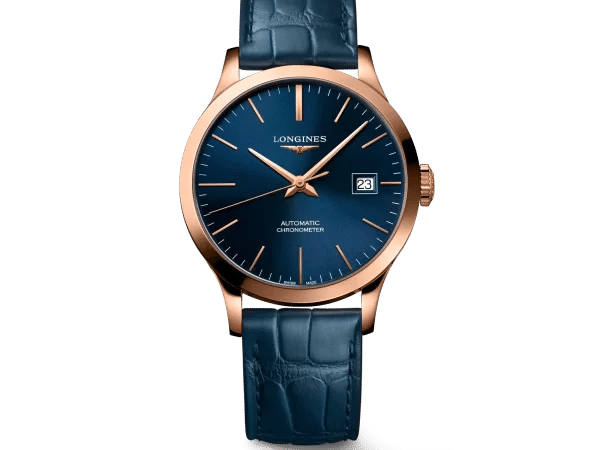 The automatic Record watches have combined vintage elegance and precision with an ambition to become the crowning achievement of the brand. Its movement includes a single-crystal silicon balance spring with distinctive characteristics. The Record collection is the first Longines timepiece to be certified as a chronometer by the Swiss Official Chronometer Testing Institute (COSC).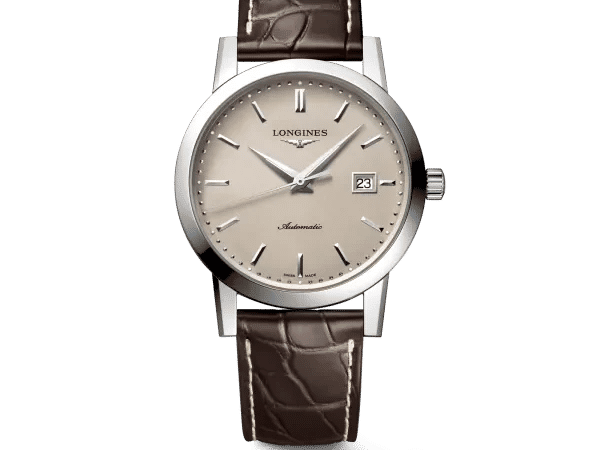 Its name is a tribute to the date of the company's creation. Longines takes absolute pride in its origin and this watch pays tribute to the year it was created. A flawless fusion of beauty, class, and performance is evident in the watches in this collection. The transparent case backs allow users to view the movements of Longines' exclusive Longines L592 or L888.  
Longines Evidenza Collection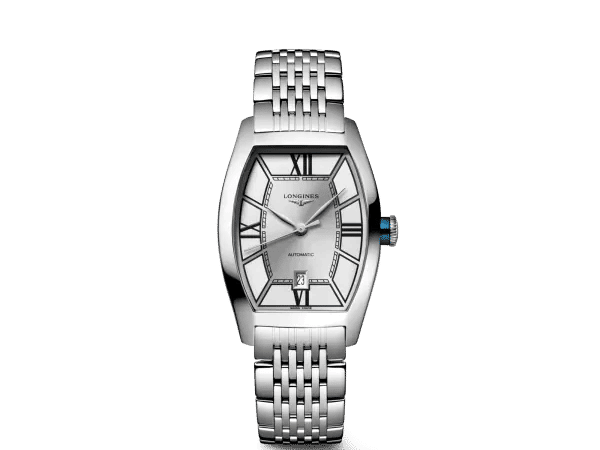 The roaring 20s were an unforgettable era. It brought about a massive change in the world of politics, arts, and society itself. The world of fashion was an open ground for artists and stylists. Longines evidenza collection is an ode to the change of lifestyle and choices that rose in this era. A 1925 model inspired the design of Longines evidenza. Its tonneau's shape can be traced back to a model from 1911.  
The Longines DolceVita Collection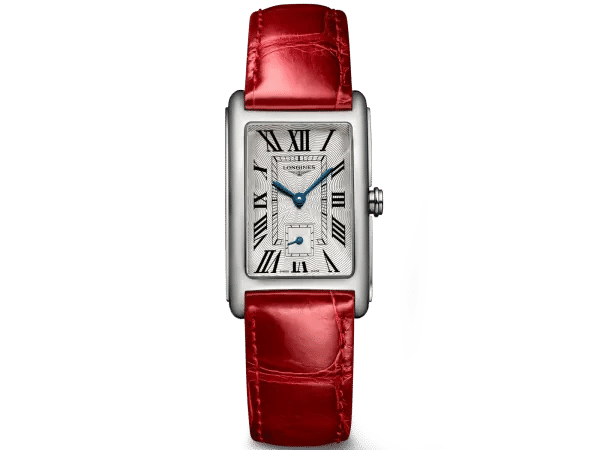 The Longines DolceVita collection exhibits the modern-day elegance of the Longines brand. It's a tribute to the zest for life inspired by the "Dolce Vita". There is a timeless elegance to this watch and the wearer can experience both its beauty and its quality. This watch is sleek and striking in its appearance and is perfect for just about any occasion.  
La Grande Classique de Longines
The Grand Classique de Longines was essential to building Longines' reputation as a powerful brand. It stands out for its slim profile and wide range. It's a clear reflection of Longines' brand identity of classic beauty and time-tested quality. Designed for both women and men, this iconic collection is worn by those who recognize superior craftsmanship.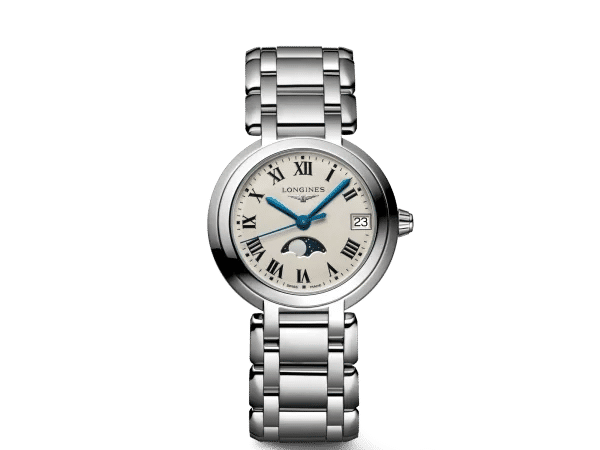 PrimaLuna is a symbol of exquisite beauty, charm, and grace. Its beauty is enhanced by the stunning clarity of its dial, which is embellished with gorgeous diamonds. This model is elegant and intricate, ideally suited for women who enjoy the sleek, sturdy yet fashionable style.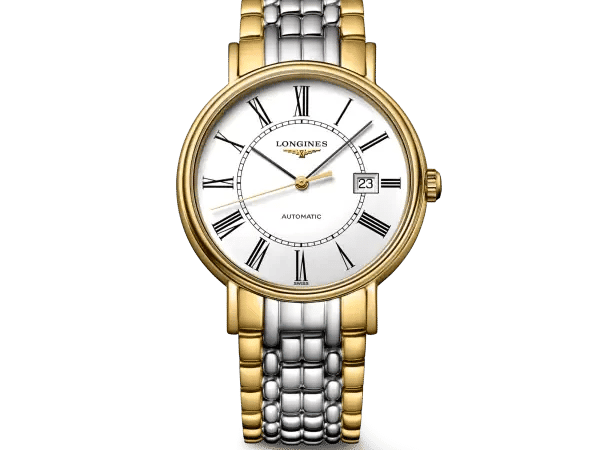 The Présence collection embodies the timeless style that is associated with Longines watches. Both men and women will enjoy the watch collection that has minimalist lines and a well-crafted design. Its dial is covered with Roman numerals, giving it a classic look. All these characteristics make this collection an invaluable part of the Longines collection.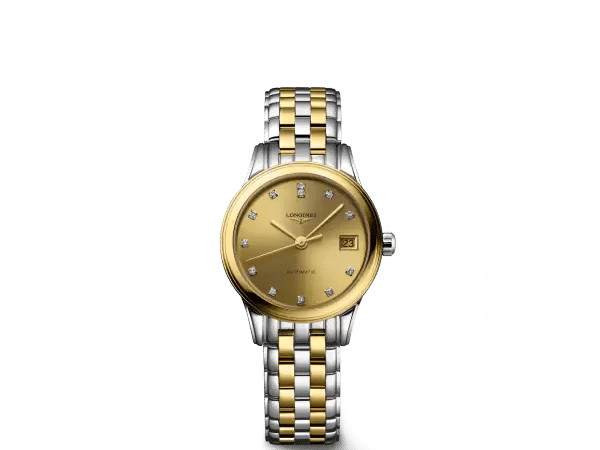 Longines launched its first Flagship in 1957 and it was a hit with watch lovers. After all these years, this collection still has a place in the brand's range of products even though it has undergone some changes. These models are fitted with a self-winding caliber. It is a perfect watch for those who prefer old-fashioned, rugged watches. Everyone can find a watch that suits them as there is a wide variety in both dials and sizes.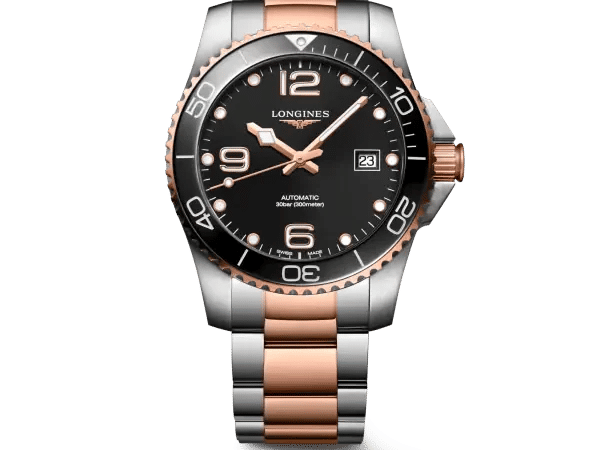 Longines is a brand that is well known for its diving watches. Their diving collection has some of the best watches that can double up as a reliable instrument during a dive. One of these is HydroConquest. HydroConquest by Longines is ideal for men and women who want high-performance watches. This collection features a blend of functionality, technology, and style.   
The Longines Legend Diver Watch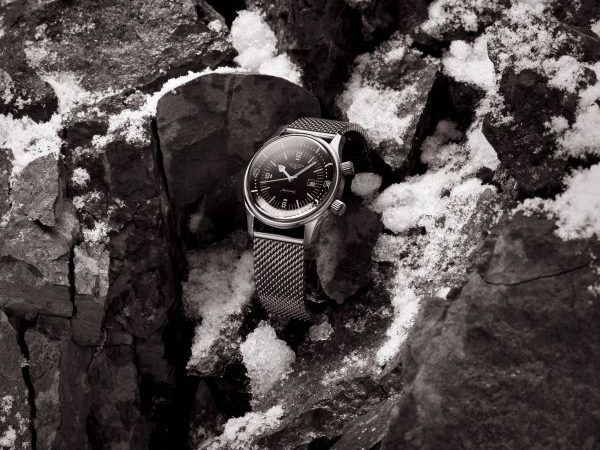 Longines Legend Diver is an integral part of the brand's Heritage collection. Over the years, Longines has gradually expanded this range. Despite possessing modern technical features, all models maintain the essence of the original timepiece's design. Due to its utility and rich history, it will always hold a place of pride in a watch lover's collection.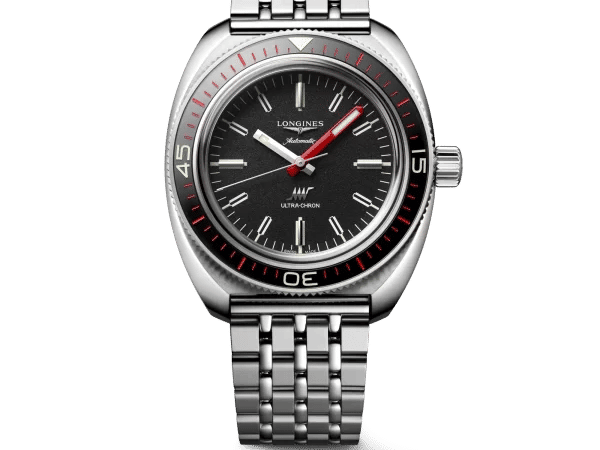 Inspired by the 1968 model's design as well as its professional dive features, the new Longines Ultra-Chron incorporates both. It has a unidirectional rotating bezel as well as a screwed-in case back and crown. Watch lovers who are passionate about exemplary watches will love Longines Ultra-Chron. This watch is built for adventure and can handle shock and water pressure.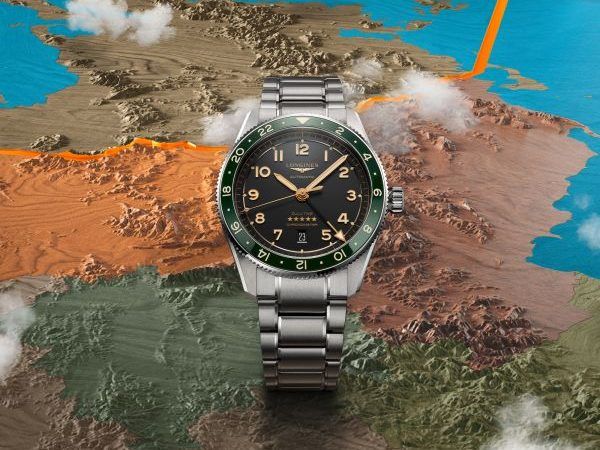 Longines watches have been a part of the adventures on land, sea, and air. Longines Spirit is a collection that bridges the gap between aesthetic and technical requirements in a watch. These distinctively pioneering watches are suitable for the world of aviation. These watches are tough and can survive challenging terrains and their design completes the whole package.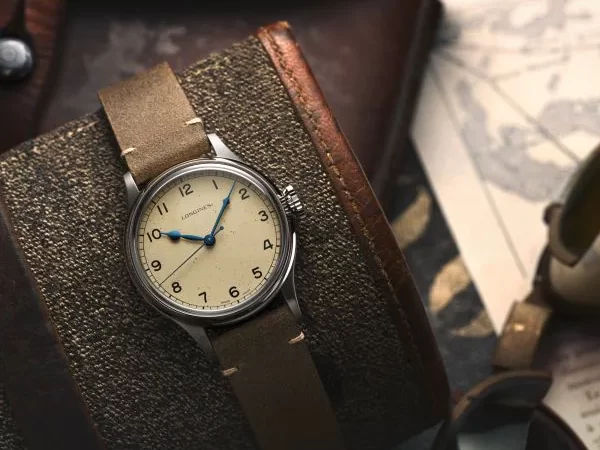 Longines drew inspiration from a 1940s watch model for Longines Heritage Military. It's an ode to their rich history and penchant for excellence. Inspired by a timepiece initially created for the British Royal Air Force, this fashionable, redesigned watch continues to follow the classic style the brand has adhered to for decades. Every dial on the military watch has been hand-sprayed with tiny black droplets to recreate the patina of the original timekeeper.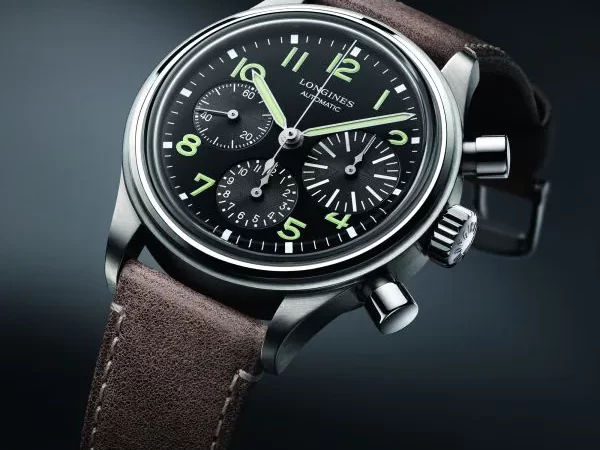 Longines has a long-standing connection with the world of aviation. The brand produced a large number of pilots' watches and chronographs, onboard equipment, and other navigation instruments. All of these were important and contributed to the world of civil and military aviation in the first half of the 20th century. "Heritage Aviation" watches from Longines revive and celebrate this remarkable heritage.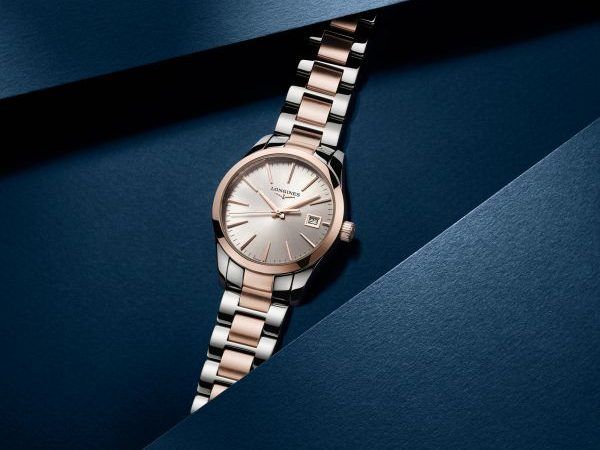 Longines has been a partner to many significant and celebrated sports events globally. Longines wanted to launch a collection of timepieces to be worn during such competitions. This resulted in the creation of the Conquest Classic. Conquest Classic was created as a tribute to chronographs produced from 1878 onwards. All of these watches are fitted with self-winding calibers, which embody the brand's principles of performance, elegance, and qualit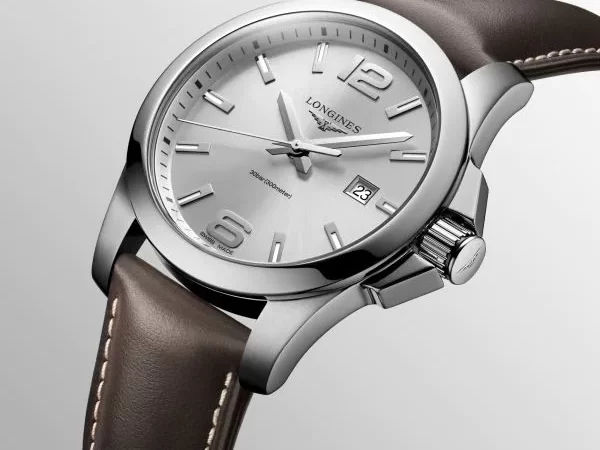 The Conquest line is a testament to the fact that the watch collection can imbibe elegance and excel at endurance and performance. These watches pay homage to the brand's long-standing role in the world of adventure and the pioneering spirit of those to dare to seek them out. Conquest models have been inspired by the same spirit since 1954. The watches in this collection feature a seamless balance of efficiency and elegance, along with the most advanced technical features.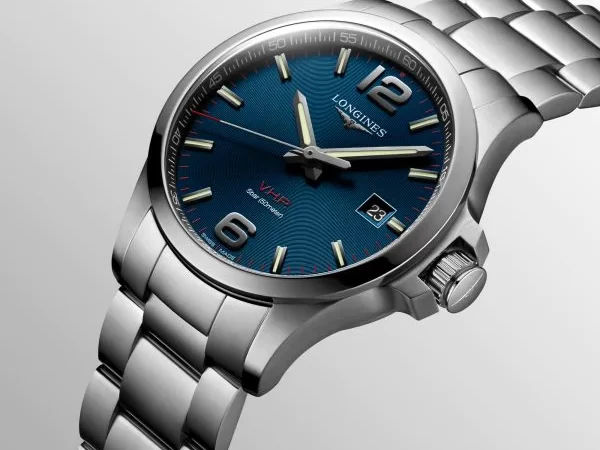 Conquest V.H.P. (Very High Precision) watch marks Longines's return to a technology they have expertise in; quartz-based watchmaking. It wasn't until 1969 that quartz wristwatches became available. Quartz timekeeping was invented in the 1950s. The technology behind these watches continues to evolve. Currently, this collection combines accuracy with a movement created especially for Longines. The wearer reaps the benefit of using a watch with the state-of-the-art technology with a sporty look.  
How to care for Longines Watches?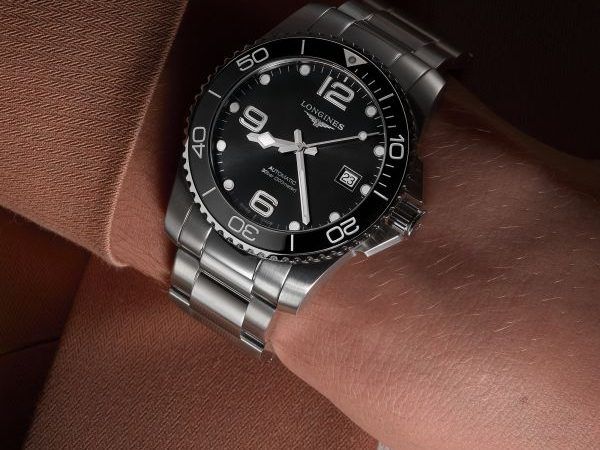 Longines is a kind of watch anyone would want to hold on to. This is easily accomplished if you are careful with how you use your watch. However, apart from proper handling, what makes all the difference is regular servicing and repairs.   
Your watches need to be cleaned and checked regularly to ensure that their performance is not affected by the way they are used. Getting your watch serviced or repaired is not something you should take lightly. You should always let a professional handle your luxury watches.   
Service center for Longines watches in Mumbai
Watches aren't just accessories. They are personal to the wearer. We understand that we know that your watches are important to you and therefore we focus on proving the best service.   
We have a team of experienced professionals who are trained to handle luxury watch repair. Apart from our expertise, we also use the best technology to ensure excellent results and the complete safety of the watches handed to us. In the last 70 years, we have helped many luxury watch owners enjoy their watches for longer.  
Your watch can be your pride and joy as long as you make the right choices with repair and service.  
Choose the Best for Your Luxury Watch Service and Repair, Choose Us.