Rado Watches – History, Types, and How to Care for Them?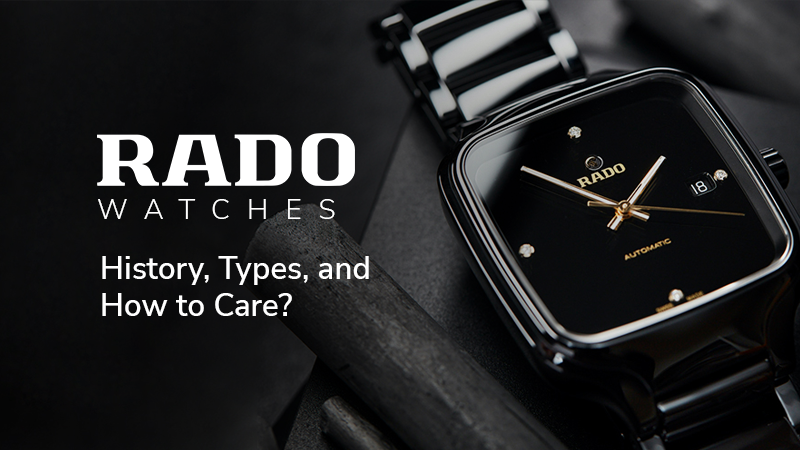 There is something about Swiss watches that seems to drive the world of watch lovers and collect as many Swiss watches as they can. They are the epitome of craftsmanship, style and efficiency. Rado is one of these watches that has made itself a spot in lover collector's list of favorites.  Rado has created some of the most noticeable watches in the world of horology. As with most luxury watches, it's durable, innovative, and elegant.   
Rado's journey started in 1917 with brothers and watchmakers Fritz, Ernst, and Werner Schlup. Like many creators, their humble workshop started in a small part of their parent's home in the village of Lengnau, Switzerland. Schlup & Co. started on the right foot with their boundless energy and uncanny ability to spot great opportunities for their brand. By the time World War two drew to an end, they were a well-known watch movement maker. This later became the stepping stone to their biggest venture, the Rado watches.   
Rado is currently a part of Swatch Group which is also the group known for some of the biggest luxury watches in the world. Rado is a force to be reckoned with in the world of luxury watches. If you are a watch collector or wish to own a prized luxury watch, Rado should be on your list. Today we shall take a deep dive into the glorious world of Rado watches to know what makes them tick and how to keep them ticking for longer.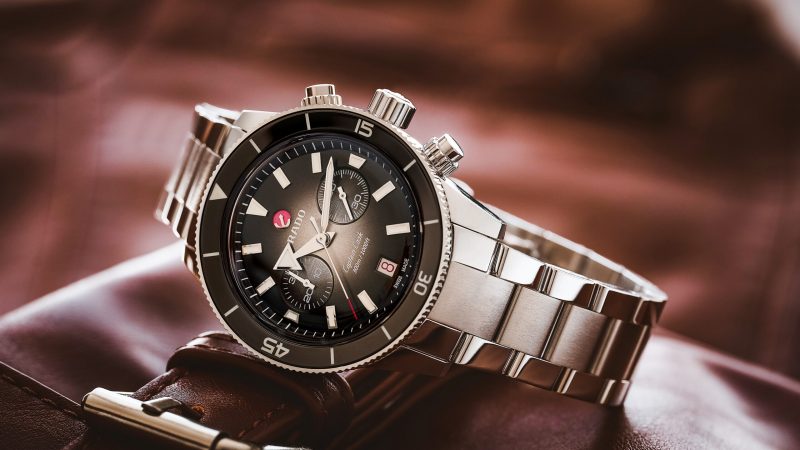 Rado made its debut in the glamourous world of watchmaking with Captain Cook. Named after the famous explorer, James Cook, this watch was marketed to doctors, engineers, athletes, deep sea divers, and racing car drivers. This watch featured the first ever anchor mark under 12 o'clock which would later become Rado's world-famous trademark. This anchor was not just for aesthetic value. The dial was mounted on a lubricated ruby bearing. The watch movement needed to be serviced when it stopped rotating freely.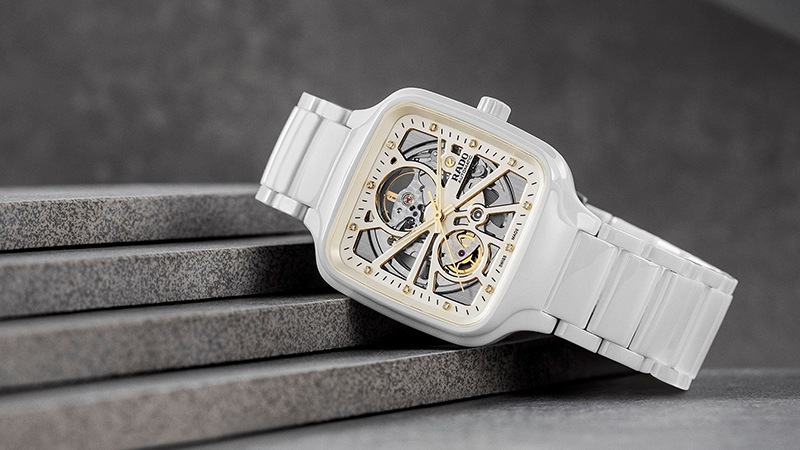 Rado is known for its square high-tech ceramic watches. True Square has a unique shape and is the first Rado watch with a square, monobloc ceramic case molded by injection. There is a full ceramic case and bracelet that makes True Square an extremely smooth, light, and comfortable watch to wear. It has a high-tech ceramic case and bracelet. Its shape, materials, and movement prowess make it a truly iconic model.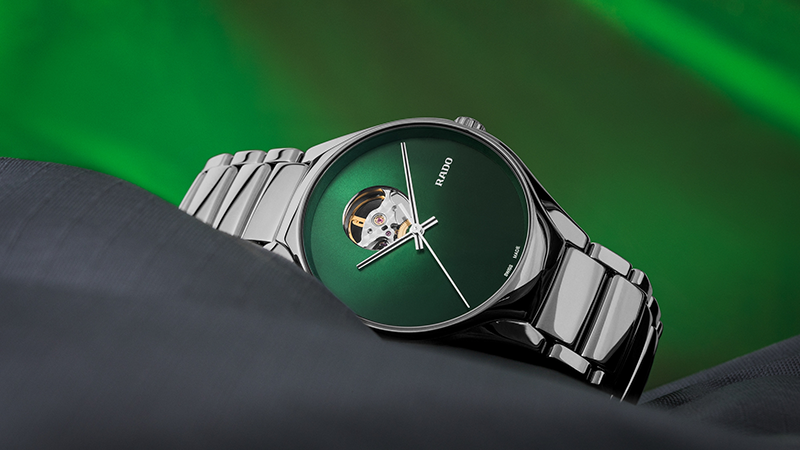 True is an award-winning model that was redesigned in 2015. This watch is a thing of beauty and an iconic collection in its own right. Rado's True is a complete package with a Swiss-made automatic movement. Since the ring is constructed completely from a high-tech ceramic material, it will remain shiny for many years to come. The user can enjoy the comfort of wearing a light material and the durability and elegance of the Rado.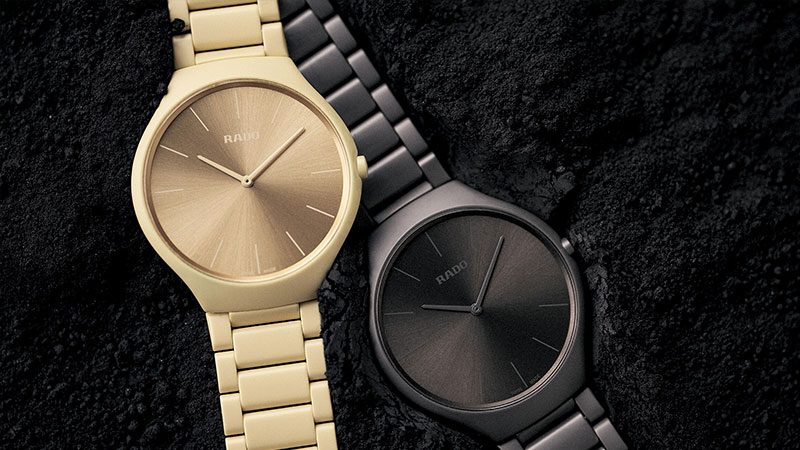 True Thinline was introduced in 2011. These are regarded as some of the best watches Rado has ever made. These watches, true to their name, are some of the slimmest watches. They are also the first watches to have Rado's pioneering monobloc case. Even though True Thinline watches look delicate, they are as durable and scratch-resistant as Rado's other high-tech ceramic watches. In order to reduce the size and weight of the watch, the design has been simplified. With a thickness of less than 5 millimeters, it may be the thinnest ceramic watch.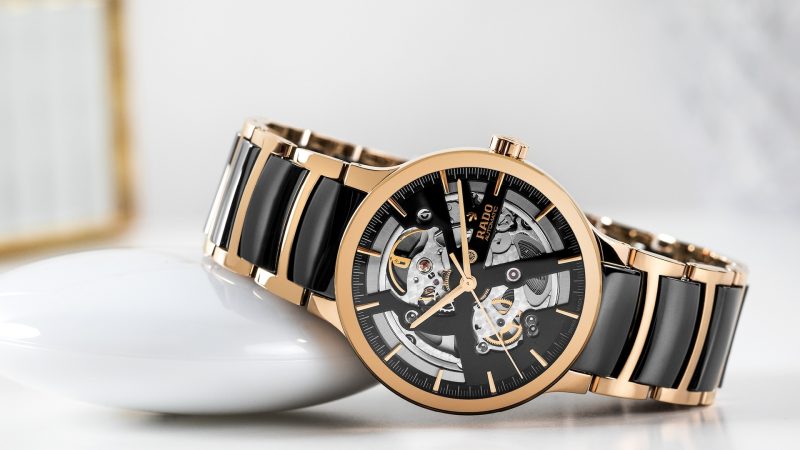 Rado's Centrix is the company's most popular watch. Various sizes and color combinations with quartz or automatic movements ensure there's a model for everyone. Featuring a lightweight, tapered bracelet, the Rado Centrix offers an exquisite level of comfort to the wearer. There is no doubt that the overall design of this watch offers oozes charm, elegant luxury, and class to those who wear it.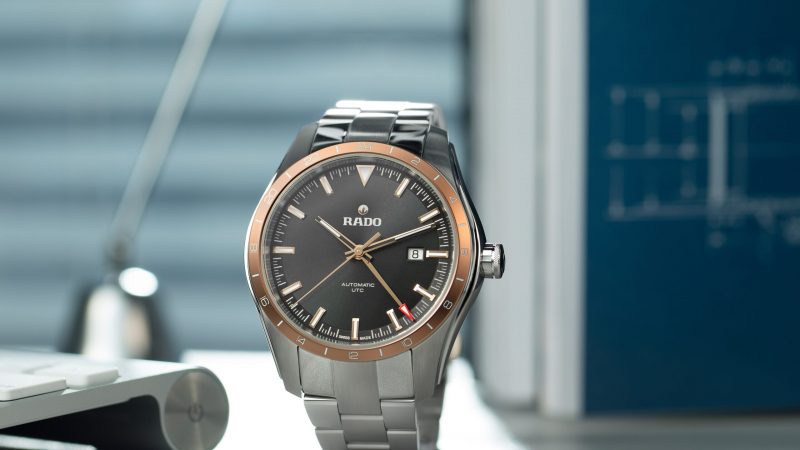 Rado's HyperChrome series, inspired by vintage Rado models, was introduced in 2012 as Rado's signature timepiece. The HyperChrome Chronograph collection is available in ceramic, plasma, stainless steel, leather, etc. The dials are available in a wide variety of colours so people can choose a watch that complements their style.  Watches in the Hyperchrome collection feature ceramic construction, innovative features, and elegant design. Designed to look good with business as well as casual outfits or sports gear, HyperChrome chronograph watches look great and are quite durable as well.  
The HyperChrome Classic draws inspiration from the first collection of watches presented under Rado's banner in 1957. This collection combines the past, present, and future of Rado with unique style, captivating design, cutting-edge materials, and advanced technology. The Rado Hyper Chrome Classic collection embodies all of these characteristics.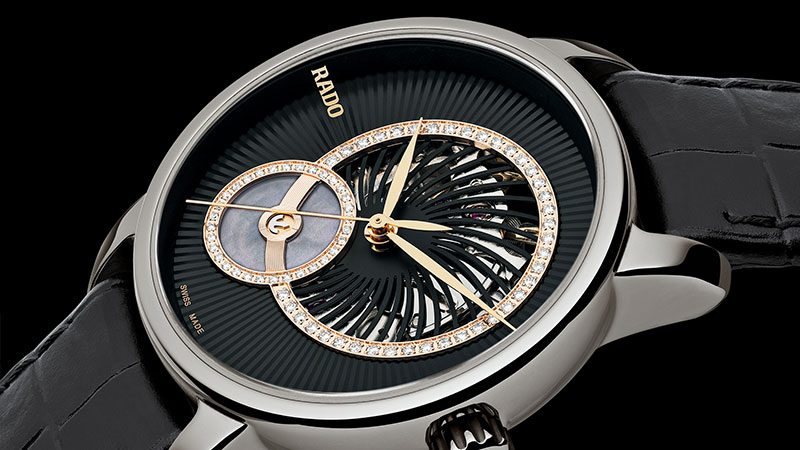 The DiaMaster is a study in the charm of simplicity. These durable watches are stylish and the collection itself is quite diverse. These watches have Swiss mechanical movement and have high-tech ceramic, plasma high-tech ceramic, or ceramos. The cases are made of Rado's innovative choice of materials. The dials are beautified with priceless stones.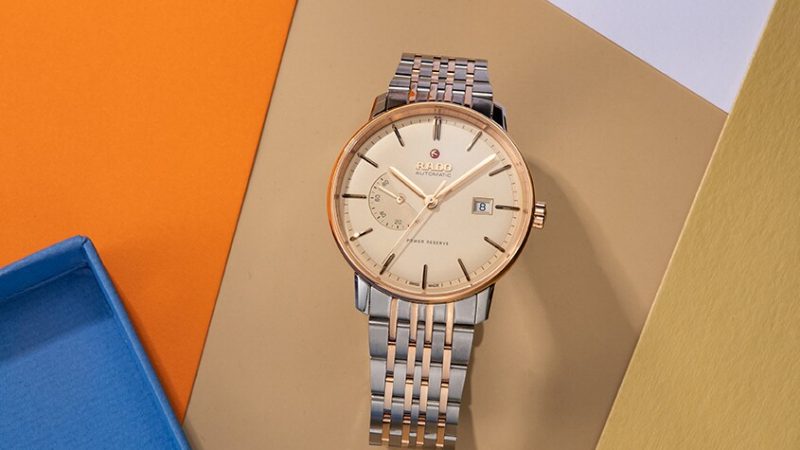 Designed for men and women, the Coupole Classic is an elegant timepiece. This collection draws inspiration from the Rado watches of the 60s. Coupole Classic is a blend of modern technology and classic design. These watches give off an aura of vintage charm in their design and elements. The Coupole Classic elevates the traditional design of the watch by adding Rado's signature elements of sapphire crystal. This adds to the beauty and is also great protection for the dials.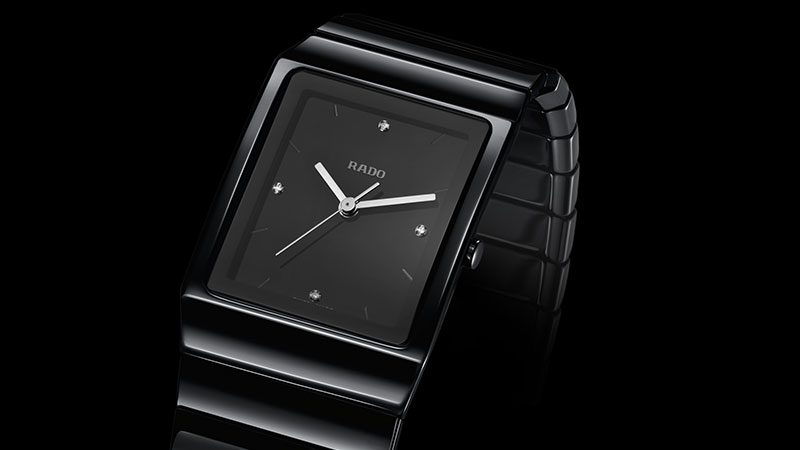 Rado Ceramica stands apart from all of the other Rado collections. The all-black concept combines minimalism with contemporary to look chic and sturdy. These watches are lightweight, scratchproof, and suitable for all occasions. Its case and the strap have the same width and the watch has a black glossy surface. There are delicate hands to indicate the hour, minute, and second, while Rado's brand name and synchronically placed date fill out the horizontal-vertical grid subtly.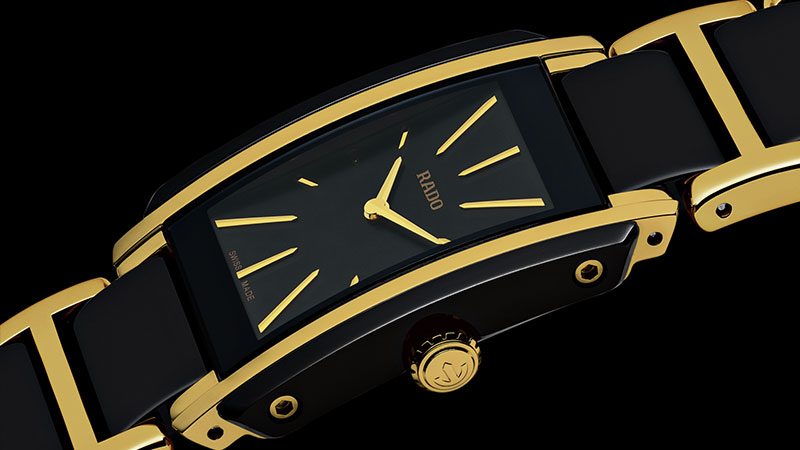 Rado Integral was the first Rado watch made from high-tech ceramic. It was considered a revolutionary development in watchmaking. Ceramics and other high-tech materials are distinctive features of the Rado watches. To create a watch with the perfect balance between pure linearity and high technology, this model incorporates a sapphire crystal, case, and bracelet all made from a metalized material.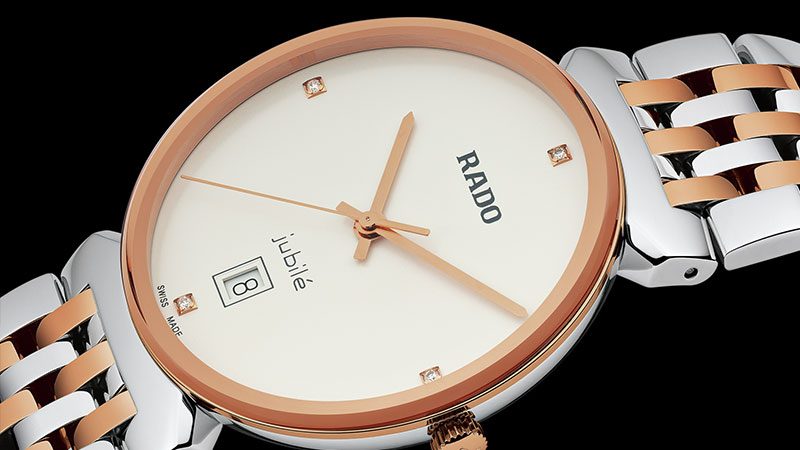 Rado Florence will remind wearers of the charming evenings of the Italian city that it was named after. It has an element of softness, class, and old-world charm to it. This Swiss-made watch walks the fine line between modern and classic designs. Its quality quartz movement, groundbreaking edge-to-edge metallized sapphire crystal, and classic Renaissance looks make it a remarkable watch.   
The DiaStar Original or original as it is called is a scratch-proof watch. The first of its kind made its debut in 1962. With four patents to its name, it provided consumers with three guarantees: technical, waterproof, and scratchproof. This watch features a broad, unconventionally shaped bezel that covers the strap fastener. The silver-colored dial featured red dates on a white background and applied double indexes at the 6,9 and 12 positions.    
How to Care for Rado Watches?
Rado is not just beautiful but also sturdy. However, like most watches, Rado needs regular servicing and if necessary, repairs. But unlike most watches, the Rado is a luxury watch and needs specialized care. In short, your local repair shops cannot and should not handle Rado watches. What your Rado watch needs is expert care by professionals at My Watch Merchant.   
Why choose My Watch Merchant for Rado Servicing?
Here is how My Watch Merchant is different from other watch centers;
Expertise –

Our professionals are highly trained and well versed in the care and repair of luxury watches.

 

Experience –

We have an experience that stretches over 7 decades. We have cultivated trust amongst customers through our work which reflects our years in handling luxury watches well.

Equipment –

Luxury watches need equipment to avoid damage. We use state-of-the-art technology to ensure the best results.  

 
Your Rado Watches are in the Expert Hands of Watch Lovers Who Specialize in Watch Care!