Audemars Piguet – Service & Maintenance of These Watches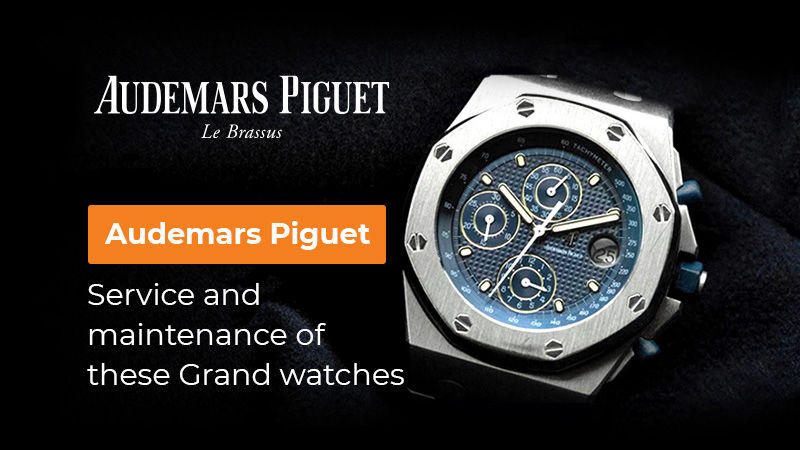 Audemars Piguet originated from 'Vallée de Joux', which along with many other regions in Switzerland is known as the birthplace of 'Swiss horology'. This impressive watch is a part of the famed 'watch valley' in Switzerland and lives up to the grandeur and the history. Audemars Piguet Holding SA is headquartered in Le Brassus, Switzerland. Since its establishment by Jules Louis Audemars and Edward Auguste Piguet in 1875, the company has remained family-owned.
Audemars Piguet is pronounced as 'Aw-duh-mahr Pee-gay', each of these watches are a work of art created with the finest material to bring the most impressive design to life. Audemars Piguet watches are a blend of aesthetics and technology. Each watch is created to give its wearer a watch that stands out for its unique materials, design, utility, and its mastery of watchmaking.
All of this makes Audemars Piguet's watches a prized possession and a collector's item. If you already own an Audemars Piguet or wish to own one, it is essential to understand this watch and how to best maintain it. Let's explore the world of Audemars Piguet.
Audemars Piguet's watch collection reflects the diversity of their buyers and their preferences.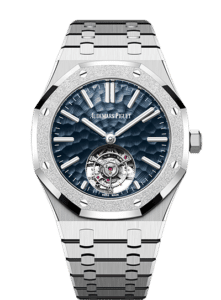 Despite having been around for a very long time, it was the creation and sale of Royal Oak that put Audemars Piguet in a prominent spot. This collection made its debut in 1972 Baselworld, during the infamous quartz crisis. With its steel case, octagonal bezel, "Tapisserie" dial, and integrated bracelet, this iconic watch made a rather splashy debut.
The octagonal bezel and the 8 hexagonal screws are the trademarks of this collection. There is something undeniably suave about its style and its precision in timekeeping.   
Royal Oak Offshore is a much sportier version of Royal Oak. The "Méga-tapisserie" design on the dial adds to the watch's fashionable appearance. It's generously proportioned dial that measured 42 mm was pivotal in making way for chunky or large watches.
Overall, this watch exudes power, strength, and poise while being a sturdy and reliable time-telling device.
The Millenary collection, introduced in 1995, incorporates trendy design and technical competence in its collection. These watches with their elliptical case, beautiful dial, and 3d architecture are a great blend of utility and elegance.
The highlight of this dial is that you can see the part of the watch's escapement which is designed back to front. It's a perfect representation of Audemars Piguet's excellence in watchmaking.
The Royal Oak Concept has been a driving force for innovation since 2002. This collection combines the latest technological innovations and advanced micromechanics. The dial's modern styling displays the state-of-the-art machinery within the watch which is at the heart of its function.
The high-tech materials used adds to the brilliance of this watch in combination with its excellent finishing technique. Their beautiful and futuristic design is an ode to their past and a step into the future.
This collection has a name that would make anyone look at it twice. Launched in 2019, this collection has several interesting and exceptional characteristics. These watches feature distinctive crystals with a curvature that makes the dial look different depending on the angle from which it is viewed.
Code 11.59 watches have three-piece case designs with an octagonal middle section. The materials, technology, and design make it one of the most unique collections by Audemars Piguet.
Jules Audemars collection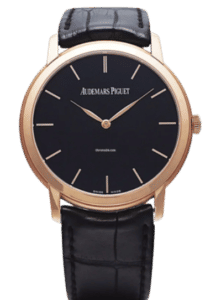 Jules Audemars, one of the founding fathers of Audemars Piguet was a pioneer in the field of watch complications. The Jules Audemars collection is named after him. All watches in this collection have a circular shape.
Apart from technological sophistication, the finishing is also impressive. Some of the watches have beautiful gem settings that set them apart. In simplest terms, this watch is a blend of style meets comfort.
Loosely translated, Haute Joaillerie means the finest jewelry. Horology and fine jewelry come together to create something exquisite in the Haute Joaillerie collection. Apart from being a time-telling device, it doubles up as a style statement.
With the Haute Joaillerie collection, Audemars Piguet ventures into the world of exquisite luxury jewelry masterpieces that create a powerful impact.
Wristwatches, trump pocket watches in terms of popularity and utility. But this has in no way diminished the love for pocket watches among watch lovers. The Classique collection consists of pocket-watches which are a part of Audemars Piguet's heritage.
A total of 800 hours is devoted to the assembly, adjustment, and hand-finishing of the 637 components that make up these exemplary devices. The complications made in gold are an homage to the finest watchmaking traditions that Audemars Piguet stands for.
Care Tips for Audemars Piguet Watches
Buying a watch is easy, the trick is keeping it brand new as the day you brought it. If you are a proud owner of an Audemars Piguet, you own a piece of the finest creation in the world of horology. Now, if you want to hold on to it for a long time, the easiest way to do it is by taking good care of it.
But all watches, despite all the precautions taken will need expert care at some point in time. This is where you need someone who understands watches and watches lovers. You need My Watch Merchant.
Audemars Piguet Servicing at My Watch Merchant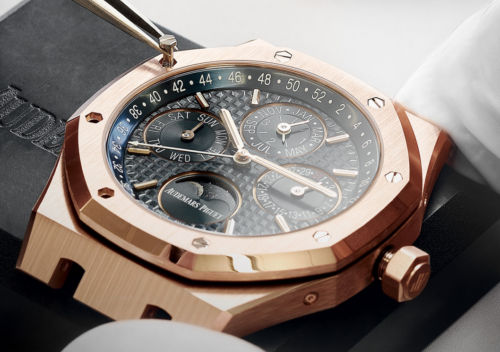 Getting your watch serviced or repaired involves risks when handed off to your local watch repair shops. Only those with experience in handling luxury watches understand these complicated machines and use quality materials to fix these watches.
My Watch Merchant is well-versed in both luxury watch repair and luxury watch servicing. We source and use only original parts while replacing worn-out parts. We have the most advanced tools, wielded by experts who are skilled and experienced in repairing luxury watches.
For over 70 years we have been ensuring that every watch entrusted with us is returned better than how it was handed to us. 
If You Own an Audemars Piguet That Needs Service and Repair, We Can Help You.