Michael Kors – Maintaining These Iconic Fashion Watches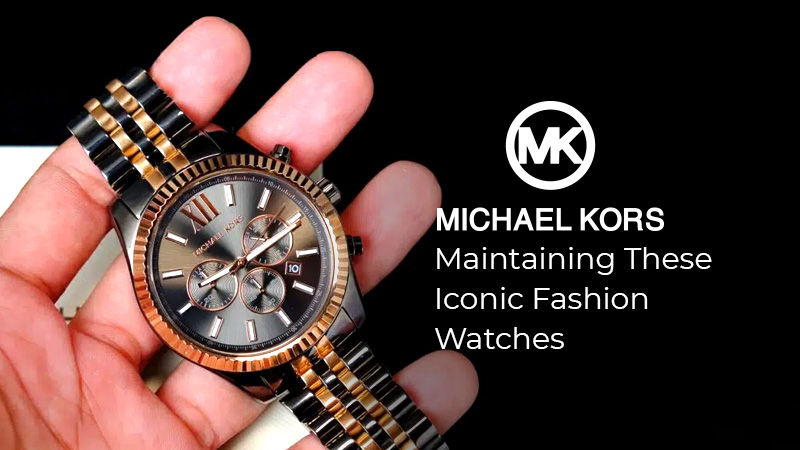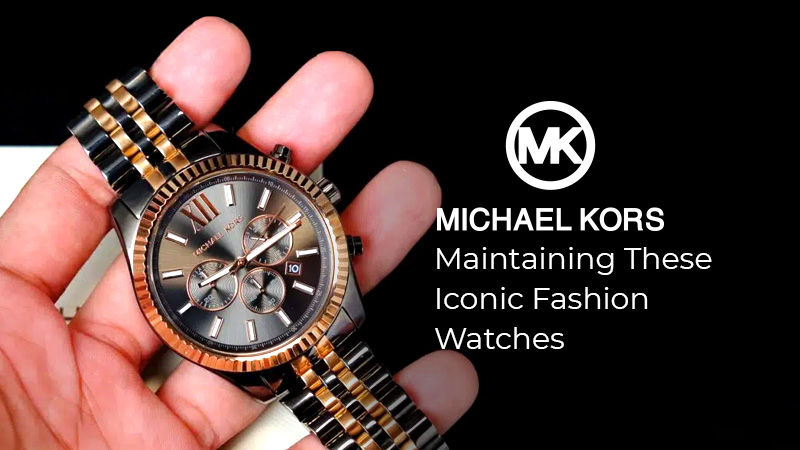 Michael Kors is a fashion giant that has fans among common folks and celebrities. This brand, named after its founder 'Michael Kors', has diversified covering a whole gamut of fashion and accessories. MK watches are not just gorgeous to behold, but also affordable. These watches are loved for their utility. Their affordability, easy-to-style design, and versatility make them a favorite.  
Michael Kors is quite new to the world of watches. It does not have the same horology heritage that some of the biggest brands in the watch world have. Nevertheless, this brand has managed to make its mark in a space crowded by some of the biggest and best the industry has to offer. They are Modern timepieces that merge affordable price and elegant design which resonated with many watch lovers.   
Most people who own a Michael Kors don't realize that these watches, like many others, need to be well looked after to ensure longevity. Let's take a peek into the glamourous world of MK watches to understand it better and how to maintain it.  
The Uniqueness of Michael Kors Watch
Michael Kors is a high fashion designer brand; its watch's designs are bound to be outstanding. MK delivers on this expectation by creating watches that are beautiful and trendy. There is an element of class and sophistication that comes in effortlessly. Unlike other brands, they are reasonably priced and owning an elegant watch, that is from the house of a revered designer label brand becomes easy for many. With distinctive styles, there is an artistic approach to each of their watches. The packaging, features and quality reflect this.  
Not many people know that Michael Kors watch production is outsourced to Fossil Group. MK watches are created by another, reputed watch brand group. This is a known move in the watch industry. In 2004, Fossil and Michael Kors formed a partnership that enabled the company to produce and distribute MK watches worldwide. MK watches are made of the highest quality materials which reflect their commitment to excellence. These watches are prized for being highly reliable and consistent in performance.   
If one were to define Michael Kors, it could be summed in two words, function and fashion. These watches not just serve their purpose well, but are well-built and look stunning. In addition to being quite durable, the watches are also quite accurate. They are available for both men and women who are adventurous with their watch collections in terms of style, colour, and material. Many MK watches are adorned with embellishments that make it look like a work of art.   
MK watch straps are as varied as the watch collection itself. Watch lovers can choose between leather, metal, and silicon depending on their needs, taste, and choice. Metal watch straps are available in varied designs while leather straps offers choices in colours.   
Servicing of Michael Kors
Michael Kors is a surprisingly low-maintenance watch. However, every watch needs to be carefully looked after to ensure its longevity. Which means regular care and servicing. It is best to trust Michael Kors watches with experts at watch care like My Watch Merchant.   
At My Watch Merchant, we ensure that watches get the care they need. Each watch is unique and requires care and attention. For over 7 decades, we have served watch collectors and helped them keep their watches working as fine as the day they brought them.   
Over time watches suffer wear and tear, and addressing these are important for your watch's overall health. Our services include Movement Repair Battery Replacement Polishing Ultrasonic Cleaning Performance Testing Parts Replacement and Strap Replacement.   
We have trained professionals who use advanced tools to ensure that watches entrusted to us are returned in excellent condition.
Got a Michael Kors That Needs Repair? We Can Help You.