History, Collection, Service, and Maintenance of IWC Schaffhausen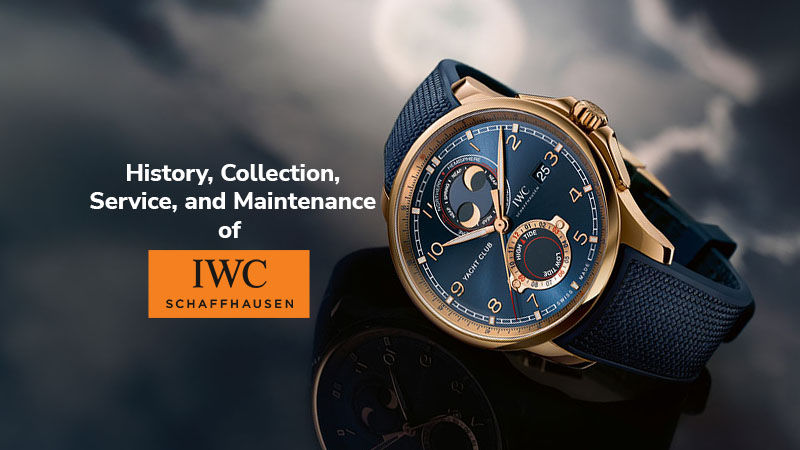 IWC Schaffhausen is a Swiss watch brand founded by an American in 1868. The International Watch Company was founded by Florentine Ariosto Jones in Schaffhausen in 1868. Swiss watchmakers, cutting-edge technology, and hydropower from the Rhine enabled him to manufacture premium watch movements. Since 2000, IWC has been part of the illustrious Swiss Richemont Group.   
They have devoted themselves to producing watches of the highest quality for more than 150 years. They handcraft their watches in their workshops with meticulous craftsmanship and a keen eye for detail. The brand combines expert engineering with classically elegant design and utilizes responsibly acquired materials to create watches that are a fine example of technology and unparalleled elegance.  
IWC Schaffhausen watches are one of the top watches to acquire. Owning a watch that is rich in history and mechanics is easy, but keeping it forever involves careful maintenance. Let's dive into the world of IWC Schaffhausen to understand it better and learn how to keep these watches working in mint condition for a long.   
Making of IWC Schaffhausen
IWC Schaffhausen is one of the top luxury watch brands with an interesting horology heritage. This watch brand has been around for nearly 150 years and remains a popular, coveted watch to this day. With its beautiful collections, IWC Schaffhausen watches remained relevant by evolving with the times.  
Their watchmaking techniques, calibers, complications, designs, and choice of materials have been impressive. They craft timepieces that are as accurate as they are aesthetically stunning. This is done by seamlessly integrating traditional artisanship with state-of-the-art manufacturing procedures and innovations.   
IWC Schaffhausen collection
The IWC's watch collection comprises of the Pilot's Watch, Portugieser, Ingenieur, Aquatimer, Da Vinci, and Portofino;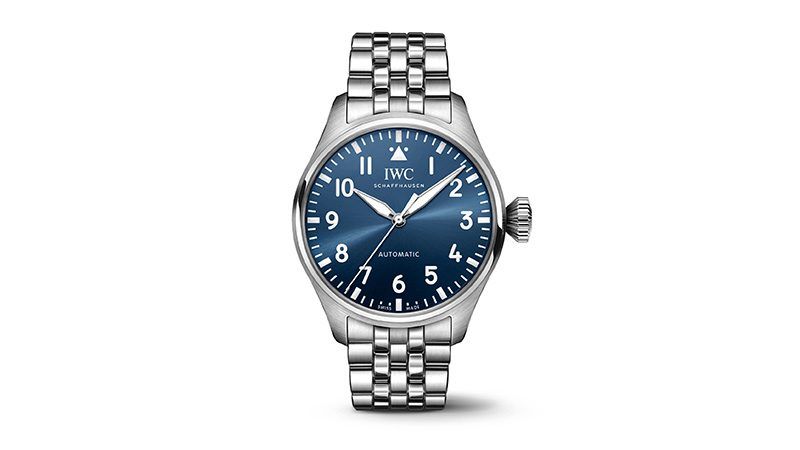 IWC Pilot's Watches are renowned for their precise timepieces featuring outstanding technology. Inspired by the earliest days of aviation, the Pilot's Watch features a prominent conical crown. Originally, Pilot's watches were characterized by their wide crowns. These were made so pilots could easily grasp their watches, despite wearing thick gloves and padded flight suits.   
For decades, classic Pilot's Watches have emulated the black dials of cockpit instruments with their luminescent displays. The matte-black dial is adorned with glowing hands and numerals that stand out. In the 1930s and 1940s, IWC contributed to the cockpit instrument styling of classic pilot's watches.   
Pilots could recognize the position of the hands and time instantly in the dark cockpit thanks to the white triangular index at "12 o'clock.". The upright equilateral triangle has two dots on either side to improve readability, as well as being luminous.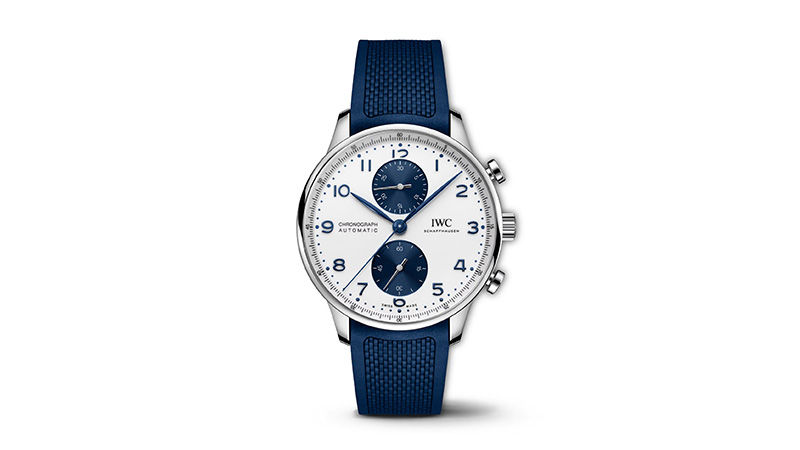 The Portugieser derived their names from two Portuguese businessmen who proposed the creation of a large stainless-steel wristwatch with accuracy. These watches were revolutionary with their impressive size, simple numerals, and thin feuille hands. The original dial continues to remain an unrivaled style icon owing to its clarity and simplicity.   
The railway-track-style chapter ring ("chemin-de-fer") which evokes the image of railway lines, is still found on Portugieser watches. Featuring one-minute intervals, the scale makes reading the time easy and blends perfectly into the dial.  
The tradition of large pocket watch movements began in the 1930s when two Portuguese businessmen ordered wristwatches with the precision of marine chronometers. These large-sized wristwatches changed the watch industry and started the trend of oversized wristwatches which remain popular to this day.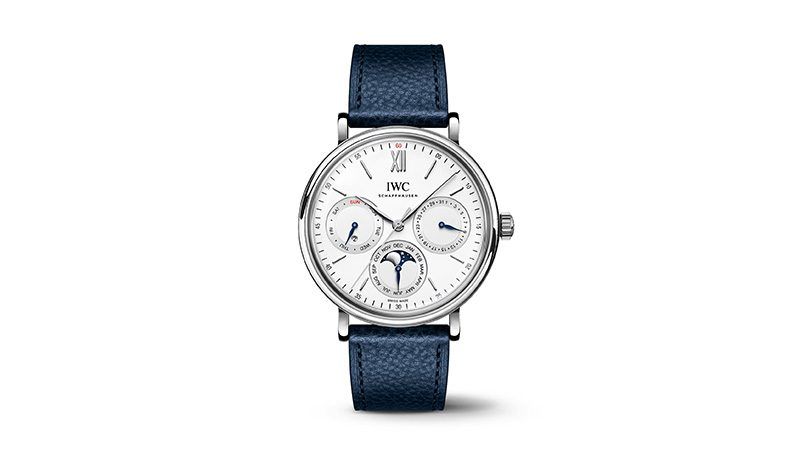 With understatement and impeccable taste, Portofino embodies the essence of classic elegance. It is easily one of IWC Schaffhausen's most successful collections with both men and women among its loyal patrons. Portofino models are popular due to both their timeless design and their minimalist look. Simple Roman numerals and slim feuille hands complete the minimal dial.   
This collection of watches is inspired by the Lépine pocket watch. Pocket-watch-style wristwatches were introduced in 1984 as "Portofino". The IWC collection has held its value and, above all, has stood the test of time.   
Portofino is named after a fishing village on the Italian Riviera coastline. As you enter the harbour at Portofino, the ship's deck offers a unique view. An idyllic fishing village on the Ligurian coast appears to be frozen in time. On selected models from the Portofino line, an exquisite back engraving depicts the wonder of this beautiful place.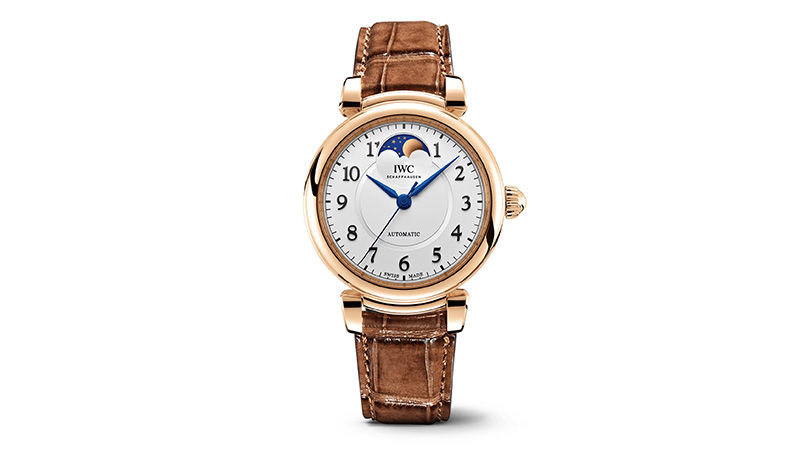 The Da Vinci collection pays tribute to Leonardo Da Vinci's innovative spirit and his many scientific and mechanical breakthroughs. This collection commemorates the legendary artist and inventor through its technical advancements, complications, and striking design elements. Over its almost 50-year history, Da Vinci has stayed popular.   
Simple yet elegant designs and sophisticated complications make these watches desirable. The Da Vinci collection has a round-case design. In this three-hand timepiece, the slightly recessed inner circle, the striking dome crown, and the circular date window add a touch of femininity. The inventive spirit of its namesake is reflected in its movement, choice of materials, and design.  
Da Vinci timepieces feature contoured strap horns and curved lugs. Their integrated straps fit comfortably on the wrist. Wearers can easily put on and take off their watches with three-wing butterfly clasps without the fear of the watch dropping.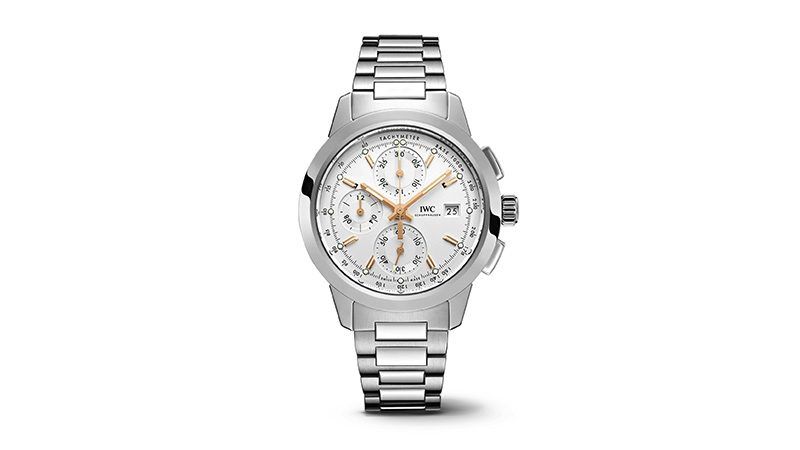 The term Ingenieur means engineer. It is derived from old French and is also used in German. The Ingenieur Automatic pays homage to the genius of engineers in the 1950s who were pioneers of technology. The Ingenieur brought together a minimalist dial design with the most innovative winding mechanism available at the time into one watch.    
Designed with a passion for engineering, the Ingenieur collection is a reflection of IWC's commitment to innovation. Ingenieur is both classy and sporty, making it an appealing and functional watch.  These watches are crafted from materials common to motorsports, such as ceramic and titanium, emphasizing their technical but sporty design and purpose.   
The satin-finished and polished stainless-steel bracelet is extremely comfortable and designed especially for the Ingenieur collection. With a unique clasp with a precision adjustment system, it is easy to adjust the length of the strap with just one hand.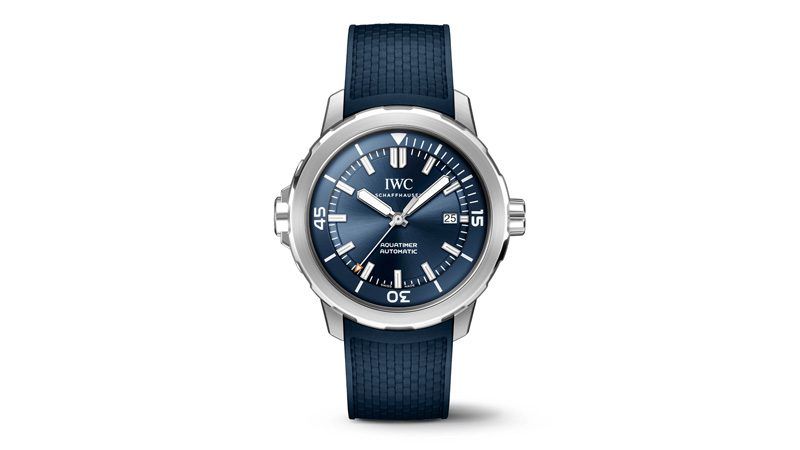 With over 50 years of experience in developing and producing professional diver watches, IWC is quite well-versed in the world of dive watches. With IWC's patented bracelet quick-change system, you can quickly change from a steel bracelet to a rubber strap or vice versa.  
The sealing system protects against water, dust, and other external influences. The watch has a water resistance of 3 bar, so it can be worn while swimming, and it has a water resistance of 6 bar, so it can be worn while snorkeling. Diver's watches are professional measuring instruments designed for scuba diving with a water resistance of 12 to 20 bar. Even deep-sea divers can wear watches that are water-resistant to 100 or 200 bars.    
Divers must know the length of their dive before resurfacing. Visibility underwater is quite poor. The Aquatimer divers' watches come with Super-LumiNova® luminescent coatings, which make it possible to read the time underwater. The trademark Super-LumiNova® does not belong to IWC Schaffhausen.   
Caring for IWC Schaffhausen
The watches manufactured by IWC Schaffhausen are made using high-tech engineering and distinctive design to guarantee their longevity. But that alone does not mean that watches will last forever. Luxury watches need to be well cared for and needs regular servicing to function well. Every luxury watch needs professional care from experts, something your local watch repair shop cannot provide. You can always count on My Watch Merchant as a trusted service center for IWC Schaffhausen.  
My Watch Merchant for IWC Schaffhausen Repair
Luxury watches should never be handled by your local watch repair shops. Watches like IWC Schaffhausen need special care. My Watch Merchant has a team of expert and skilled professionals who specialize in luxury watch servicing and repair.   
Over 70 years we have perfected the art and science of watch repair. We use original parts to replace worn-out parts. Our services include Movement Repair, Battery Replacement, Polishing, Ultrasonic Cleaning, Performance Testing, Parts Replacement, and Strap Replacement.   
You can simply place the request for service online and also track the status of your order online. If you take pride in owning a coveted luxury watch you must be vigilant about its care and maintenance.   
Got a Watch IWC Schaffhausen That Needs Repair and Servicing?