Chopard – Creation, Collection, and Care Tips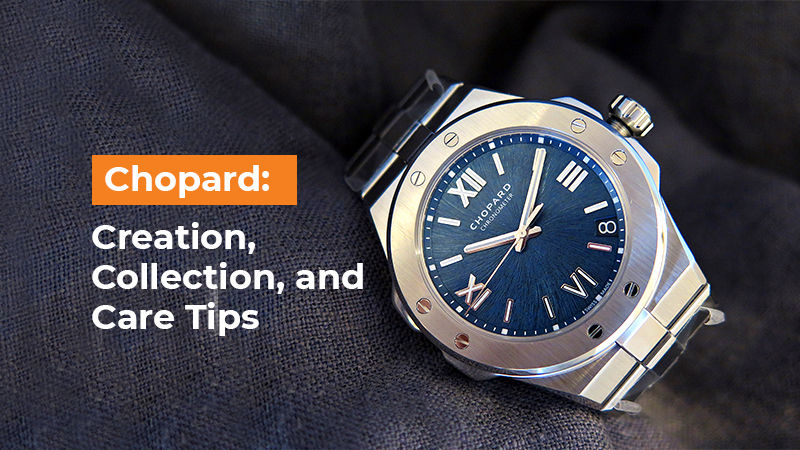 Chopard's unflagging commitment to exquisite craftsmanship, excellence, and a timeless aesthetic has made it an iconic presence in haute horology. Chopard has graced the wrists of many discerning watch enthusiasts for over a century. Those who appreciate the marriage of artistic excellence and technical mastery will make Chopard a part of their collection.
Swiss watchmaker Louis-Ulysse Chopard was born and raised in Sonvilier, in the Swiss Jura. In 1860, he founded the renowned L.U.C. manufacture, establishing an illustrious watchmaking legacy. Louis-Ulysse Chopard recognized that true value lies not only in crafting the mechanical movements but also in presenting the finished timepieces to the world.
Louis-Ulysse Chopard's grandson, Paul-André Chopard, sold the company to German goldsmith and watchmaker Karl Scheufele III. Currently owned by the Scheufele family, Chopard remains one of the few family-owned businesses in the world of horology.
Chopard watches embody a harmonious blend of tradition and innovation, with intricate movements painstakingly crafted by the finest artisans. Watches from Chopard are subjected to stringent quality controls, ensuring a superior product. They are known for their dedication to excellence and commitment to pushing the boundaries of luxury watchmaking.
We are going to explore the world of Chopard timepieces today and see how these priceless watches should be cared for.
The Alpine eagle watches features exquisite details, each inspired by Apls and Eagle. This luxury watch design features multiple references to the Alpine Eagle and its biotope. The results are nothing short of iconic when nature is your muse.
Inspired by the iris of an eagle, the galvanic blue or grey brass dial is detailed with a sunburst pattern. Its counterweight resembles an eagle's feather, and its second hand is shaped like an arrow. The bracelet is made of Chopard Lucent Steel. It has a single link shaped like an ingot. The crown of the watch is engraved with a compass rose.
This collection has remarkable timepieces that are painstakingly handcrafted and designed to resonate with the majestic Alpine Eagle and its habitat. It exudes a unique blend of creativity and ecological awareness. The Alpine Eagle watches embodies the style of sports chic elegance and refinement in all aspects of its sophisticated design.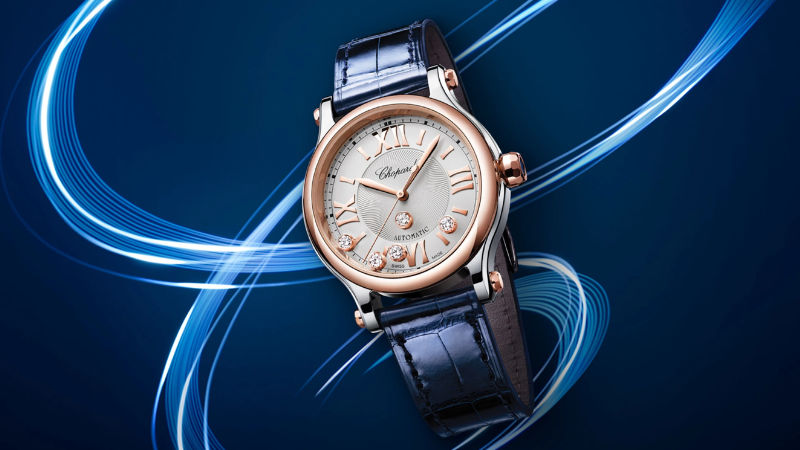 In 1993 Caroline Scheufele encapsulated the spirit of the period by designing a sports watch combining two favorite elements in watches: steel and diamonds. The result was Women's watch Happy Sport collection.
The Happy Sport diamond watches quickly became an iconic timepiece for Chopard and among luxury watches for women. One of the most unique aspects of these watches is the diamonds. Unlike other watches where diamonds are set, the Happy Sport Watch collection watches float and move gracefully. Diamonds were released from all settings for the first time in watchmaking history.
These watches are available in white, gold, rose gold diamond watches, and stainless steel. Quartz luxury watches, automatic watches, and moon-phase watches are available. Happy Sport transcends generations, styles, and age groups. Chopard sailed with the tides of change in a period that bore witness to social advancement and women's liberation. This collection pays tribute to this victorious era.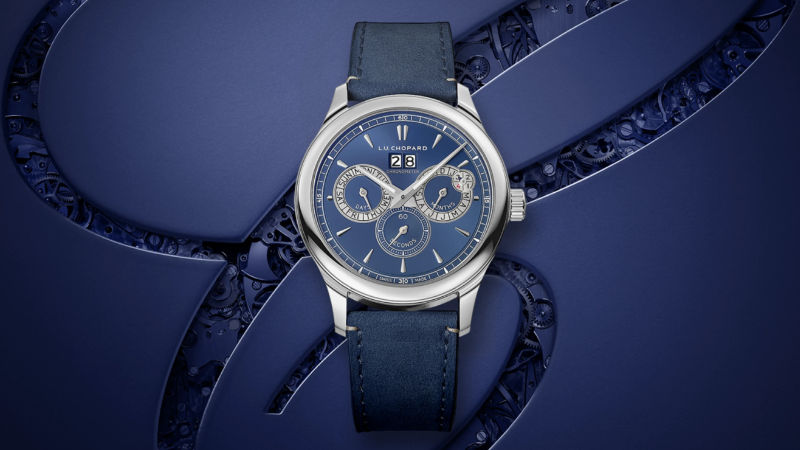 Chopard's L.U.C. collection, introduced in 1997, pays homage to the company's founder, Louis-Ulysse Chopard. Models in the collection incorporate the initials of the founder, as a symbol of its ties to him. It honors their founder's historical values; which they have held up well over the years and retained their original characteristics.
Chopard L.U.C. watches are masterpieces of engineering and a model of functionality. Everything from the development of movements to the final assembly, as well as gold casting and production of straps, cases, and movement components, are meticulously handcrafted. Each step of the creation of these watches plays a vital role in the production process of L.U.C watch collection.
Watches in the L.U.C collection possess distinguishing characteristics that set them apart, including their accuracy, quality, and aesthetically pleasing design. These characteristics make it not only distinctive but also contribute to its prestigious reputation.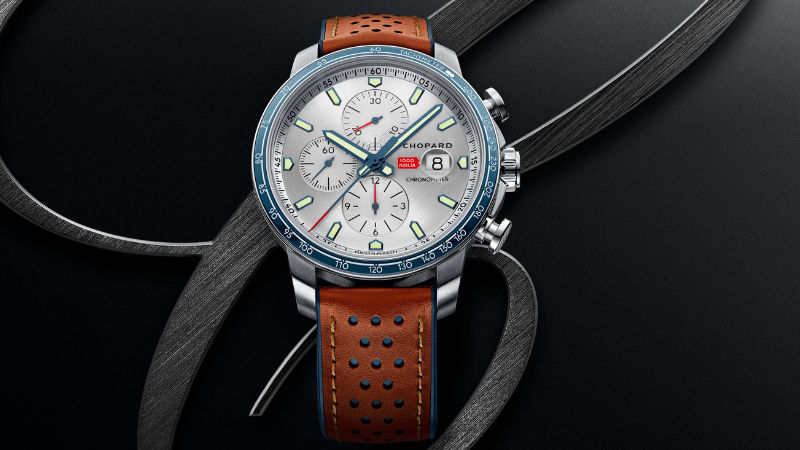 Mille Miglia Classic Chronograph watches are the perfect watches for auto enthusiasts. These watches have an excellent balance of accuracy, comfort, and design. Mille Miglia Classic Chronograph draws inspiration from classic car races between 1927 to 1940s. These watches are a dependable companion for drivers heading down the roads, making them look good while racing.
Mille Miglia started as an open-road, motorsport endurance race in Italy in 1927. However, since 1977, it has been "Mille Miglia" a regular race for classic and vintage cars. Cars are the inspiration behind these watches. They bring together vintage racing spirit and advanced engineering. These striking, robust, precise chronometer-certified wristwatches celebrate the legacy of watches made for modern gentlemen.
These watches are made of stainless steel with straps made of rubber or leather. The watches with rubber straps have the design of Dunlop tire treads, the design evokes an unmissable connection to automobiles. The watches in this collection are endowed with an unmistakable flair that will appeal to speed enthusiasts and fashion lovers.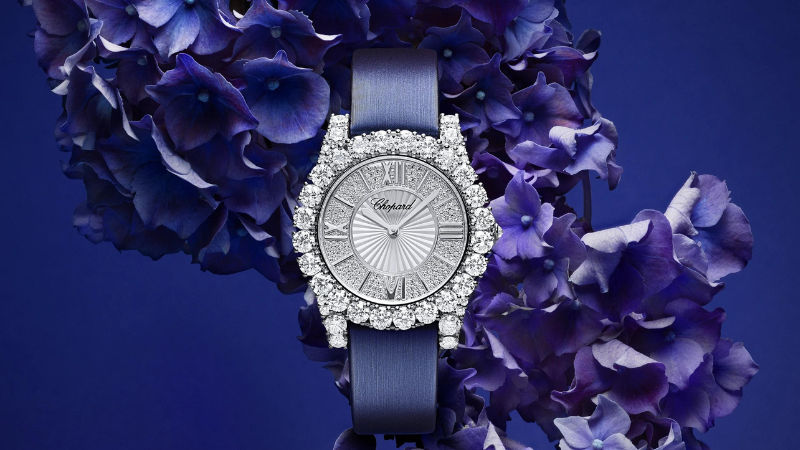 The L'Heure du Diamant luxury watch collection presents a stunning collection that is a perfect amalgamation of metal, gems, and art. With this collection, Chopard seamlessly combines fine jewelry and fine watchmaking. The collection honors Chopard's talented craftspeople's extraordinary skills and expertise using diamonds of the highest quality.
It showcases these precious gems, whose brilliance is enhanced by the crown setting crafted by Chopard artisans. Women's luxury watches from the L'Heure du Diamant collection feature dials expertly created from high-quality materials like mother-of-pearl and hard stones.
The dials of these watches feature intricate guilloché patterns and detailed artwork, a testament to their meticulous workmanship while demonstrating Chopard's dual expertise. A Chopard timepiece from the L'Heure du Diamant collection is a masterpiece in itself.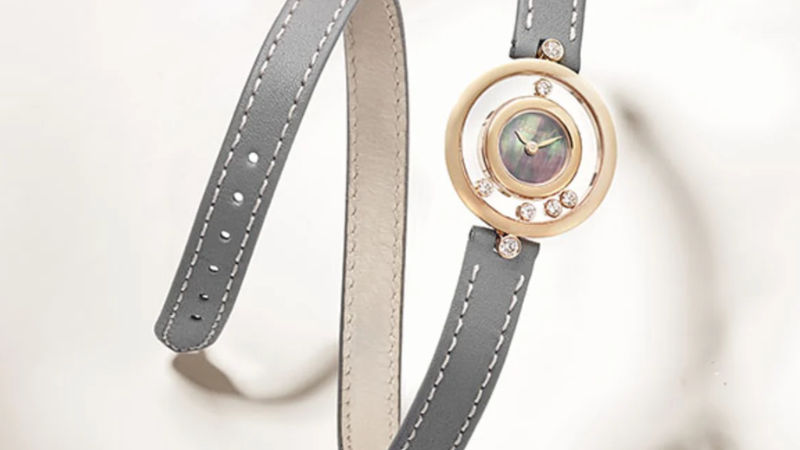 Happy Diamonds jewellery and watches have captured the essence of 'Free-Spirited' Women since 1976. Diamonds that are free from any setting represent freedom and symbolize the women of a new era.
Chopard contributed to an era defined by women's empowerment and social change by disrupting watchmaking and luxury jewelry standards in the mid-1970s. It was the first-time moving diamonds were displayed between sapphire crystals on the face of a watch. Chopard floating diamond watches for women have an impressive range consisting of diamond watches, white gold, and rose gold watches.
At Chopard, Joie de Vivre is a foundational value, designed to inspire others. It is this life-affirming spirit that is at the heart of the movement that brought the idea of free-floating and dancing diamond in a watch to life.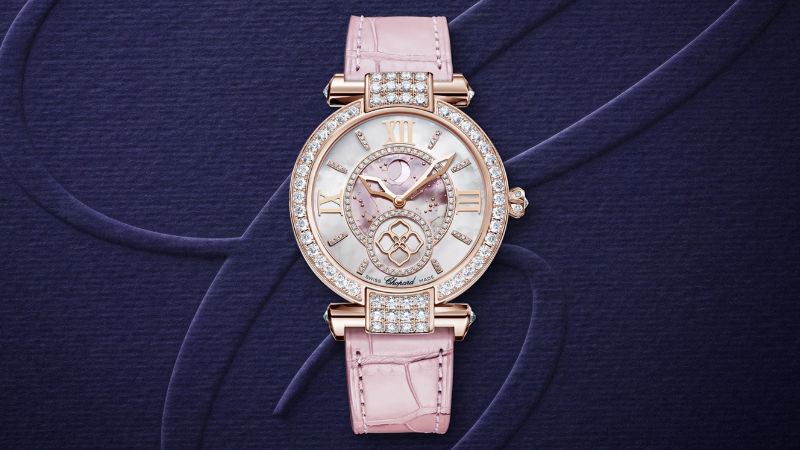 The Imperiale collection is fiercely feminine and shimmers with the opulence and ethereality of its details. Imperiale collection for women celebrates contemporary women whose regal, powerful beauty is outmatched by their unstoppable spirit.
This collection of watches for women includes hand-wound watches, quartz watches, moon phase watches, tourbillon watches, and self-winding watches, crafted in a range of metals. Roman numerals and dagger-shaped hour and minute hands add to these watches' charm.
This collection offers several models with varying materials, dial colors, and sizes.
How to take care of Chopard watches?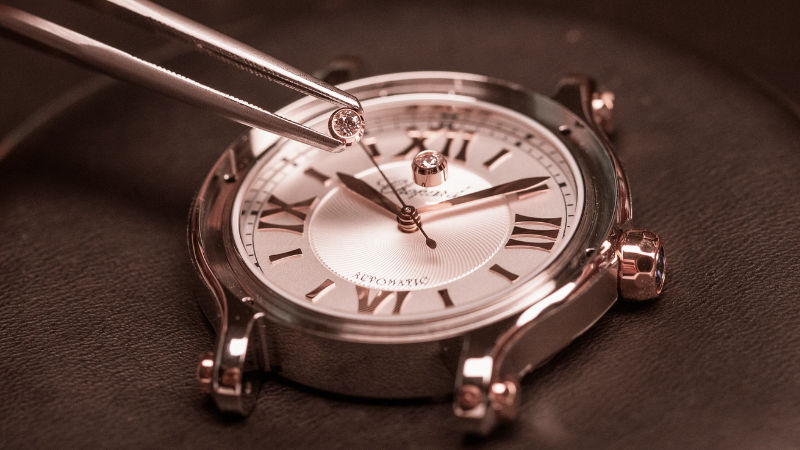 Chopard watches are beautiful, elegant, and timeless. These are watches with legacy and something that can be passed down to generations if one desires to do so. The only way to keep your watches with you for the longest is by ensuring their good health with proper care and maintenance.
Your watches need regular servicing and care. The best way to do it is by letting professionals handle it.
Repair and Service your Chopard watch at My Watch Merchant
Luxury watches, especially ones with precious gems and stones, should be handled by professionals. It requires patience, perseverance, and skill. At My Watch Merchant, we specialize in the expert repair and restoration of all kinds of luxury watches.
As an experienced team of professionals, we have consistently delivered excellent services to our customers over the past seven decades. The services we offer include repairing damage, servicing watches, replacing parts, and replacing watch straps. We offer top-notch watch repair services due to our cutting-edge technology and technical expertise.
You can count on us to handle your most valuable timepieces.
Get the Best Care for Your Chopard Watches at My Watch Merchant!