A Guide to History, Collection & Care of Vacheron Constantin Watches
Vacheron Constantin is one of the three watches that form the holy trinity of watches in the world of horology, the other two are Audemars Piguet and Patek Philippe. This is an indicator that Vacheron Constantin is one of the watches every watch lover aspires to have. Since its foundation in 1755, Vacheron Constantin has maintained a continuous history of watchmaking, making it one of Swiss watchmaking's oldest companies.  
Vacheron Constantin, pronounced as va·shuh·ron kon·stuhn·tin, was founded by Jean-Marc Vacheron, an independent watchmaker in Geneva, Switzerland. Jacques-Barthélemy Vacheron, the grandson of the founder acquired a business associate in 1819, François Constantin, after which the company carried out its business under the name Vacheron & Constantin. It has been a subsidiary of the Swiss Richemont Group since 1996.   
Vacheron Constantin lives up to their motto of "Faire mieux si possible, ce qui est toujours possible" which means 'Do better if possible and that is always possible'. Despite being one of the oldest watchmakers, their quest for excellence never ended, which is how they continue to create some of the most exceptional watches. Their timepieces boast of, and have some of the most marvelous complications, complex movements, and the most intricate designs. The sheer beauty and craftsmanship of these watches are what makes them one of the most revered names in horology.   
This is a timepiece a watch lover aspires to own, those who already own it would always love to keep it. Let's explore the impressive collection of Vacheron Constantin and learn how to take good care of these exceptional watches.   
Vacheron Constantin Collection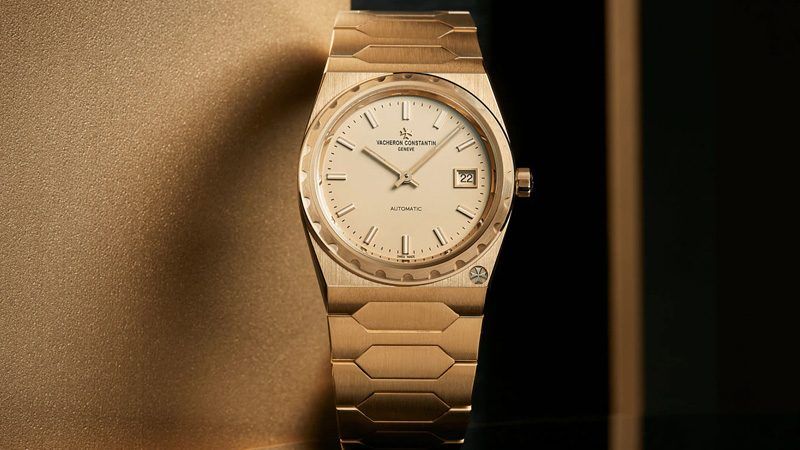 The Historiques collection celebrates legendary watches from Vacheron Constantin's illustrious heritage. Their long history of engineering excellence, which spans over 260 years, is reflected in models that are both technically sound and aesthetically stunning.  
This collection honors the most prestigious era in the art of watchmaking. In addition, it addresses artistic tropes that have been part of the Manufacture's history since 1755. Using this collection, Vacheron Constantin has redefined its technological and visual hallmarks. Watches in Historiques collection are made of several materials, including platinum, pink gold, and yellow gold, as well as steel.  
In the 1920s, Vacheron Constantin created the innovative display, which is enabled by a counterclockwise 45-degree rotation of the movement. A perfect balance is struck between luxurious elements and strict standards in Historiques' collection.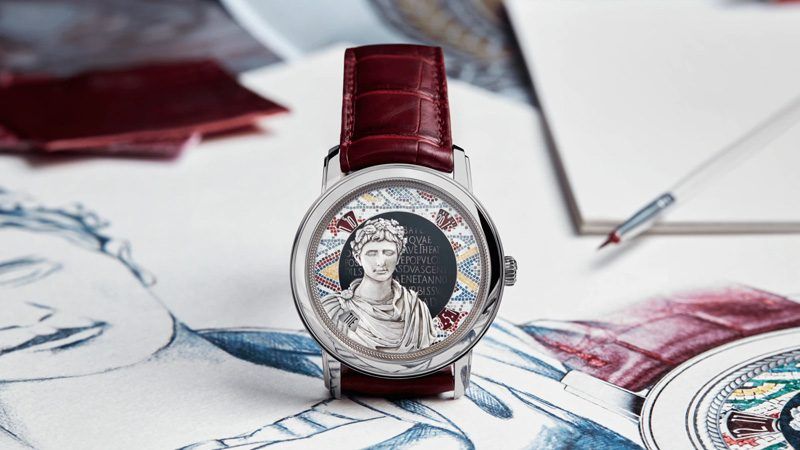 The name Métiers d'Art stands for 'Master of Art', and the collection stands for  exquisite piece by a truly skilled master of the art.   
Métiers d'Art watch collection draws its inspiration from culture, history, art, and beauty. It is an ode to aesthetic processes in the making of jewellery and watches. Masterfully crafted, these pieces of art embody creativity in the journey and skill that has been passed on throughout time.  
Vacheron Constantin's watchmakers are gifted, and their watches are a testament to this. It is evident from the dials and movements of the watches in this collection that this tradition continues. Only a few master craftsmen are capable of this Métier d'Art. These watches are truly the collector's items.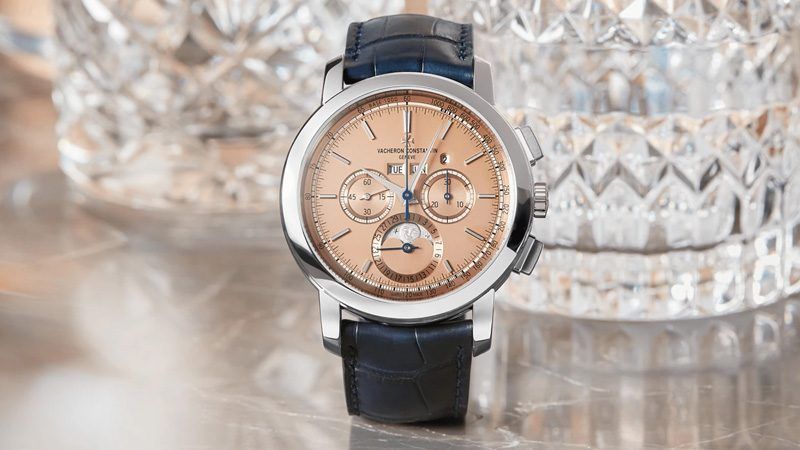 The Traditionnelle collection embodies the most refined Geneva 'Haute Horlogerie' (high watchmaking) traditions. Traditionnelle timepieces reflect horological elegance and precision. Each model pays homage to the craftsmanship and know-how of the manufacturer, no matter how complex or simple it may be.  
From a long line of legendary timepieces, the Traditionnelle collection is a tribute to centuries of watchmaking craftsmanship. Tradition has been a living art for over 260 years at Vacheron Constantin.   
There is an intimate connection between look and utility in traditionelle watches that gives them their charm. The watches have a fine bezel, a fluted case, a railway minute track, and a round case. They also have dauphine-shaped hands and "Geneva baton" hour markers. Each model in this collection blends artistic flair with engineering brilliance.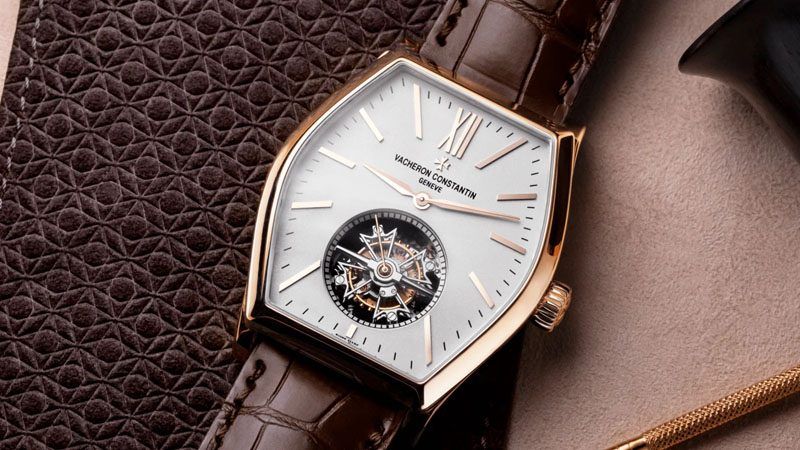 The Malte collection has been associated with the most prestigious watch mechanisms since 1912. It bears the name of the watch component that has become the Vacheron Constantin emblem. This collection consists of watches with aesthetically appealing lines.  
The striking design of the tonneau (barrel) shape provides the perfect backdrop for showcasing the highest level of craftsmanship in watchmaking. Individually handcrafted, these watches are powered by house-made movements.   
The dial of the watch is understated and has hour markers as well as Roman numerals following the curve of the case. It all exudes an elegance that is distinctive to high-end watches.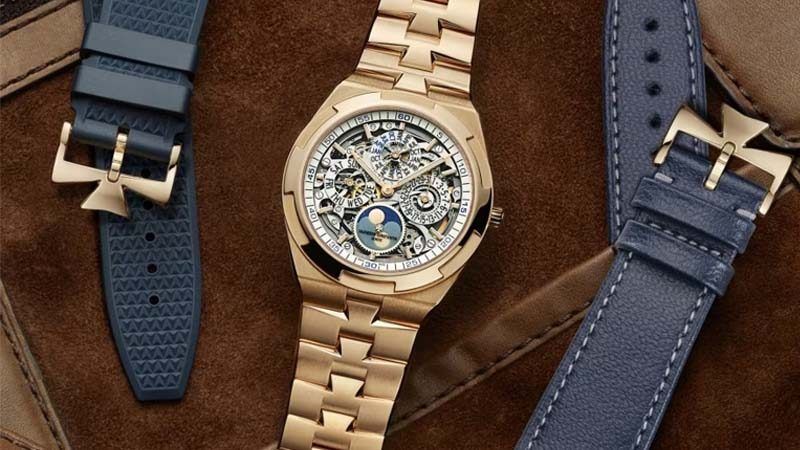 Vacheron Constantin presaged sports watches. Their spirit of innovation enabled them to anticipate the need for a watch that would be part of an active lifestyle. As introduced in the 1970s, this iconic reference "222" had the perfect features and look for a sports watch.  
New horizons were explored with the Overseas collection in 2016. The watches in this collection focus on ease of use, comfort, and ergonomics. All of this makes the watches in this collection versatile and unique. They are powered by self-winding mechanical movement.   
In addition to having adequate power reserves, they are protected against magnetic disruptions, and they are water resistant. They are quite durable, accurate, and made from quality materials. These watches come with additional straps.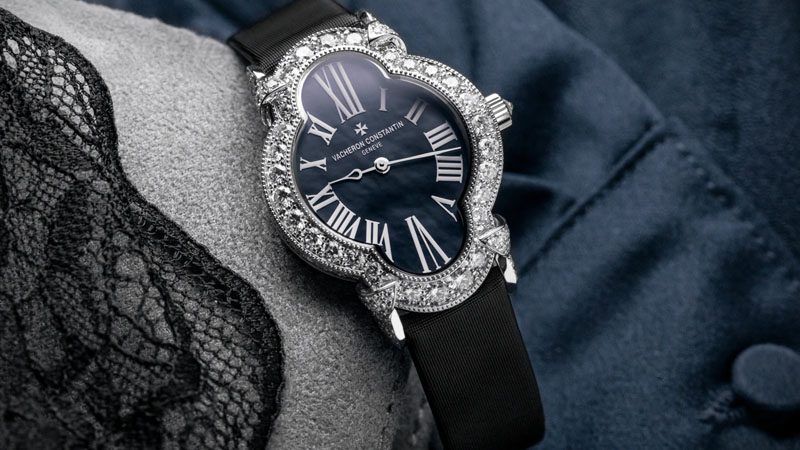 The Heures Créatives collection draws inspiration from the women's watches designed by Vacheron Constantin during the 1920s, 1930s, and 1970s. Their feminine curves are embellished with unmistakable fashion-forward statements, and they are bold symbols of vibrant artistry.   
Unlike many watchmakers, Vacheron Constantin has always created beautiful watches for women. Their watches have been adorning women's wrists for over 200 years. 2015 marked the launch of les Heures Créatives. Art Nouveau, Art Deco, and the 70s, three important periods of remarkable creativity, are all represented by these creations.  
The watches in this collection are a horological treasure with elegance on the outside and the finest mechanical watchmaking tradition on the inside. Elegant and refined, this collection pays homage to all women through the ages with a distinctive sense of design: priceless, exquisite, and one-of-a-kind.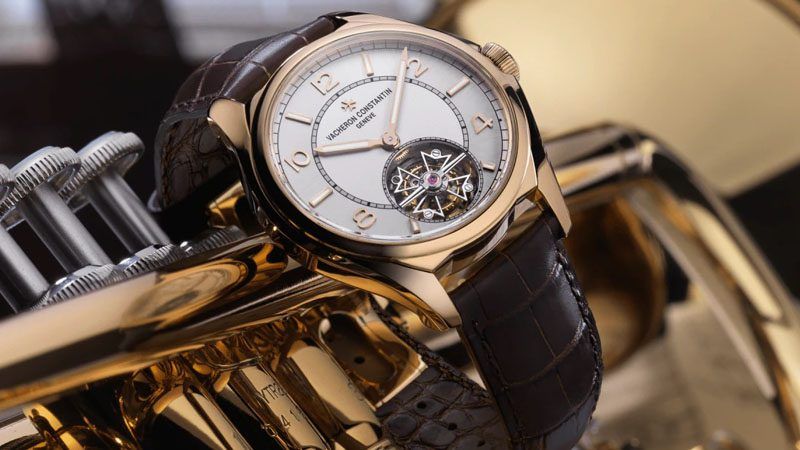 Fiftysix pays tribute to 6073's legendary design. There is no better way to honor the past than to embrace the present. By combining modern style with timeless elegance, Vacheron Constantin honours this connection.   
Originally designed to improve accuracy in mechanical movements, Maltese Cross now represents watchmaking excellence. The Fiftysix models follow tradition. Their case lugs are inspired by the Maltese Cross, and they appeal to elite collectors. Unique aspects of Vacheron Constantin are also accentuated by the crown and dial. Its oscillating mass made of 22-carat pink gold keeps time. A simple dial, a striking case, and innovative technical features make Fixtysix one of the best among Vacheron Constantin's masterpieces.   
The Fiftysix collection always looks its best, regardless of the occasion or location. Automatic movements power all Fiftysix models, including the Full Calendar and Date-Day versions. in addition, the transparent background shows off the flawless finishes.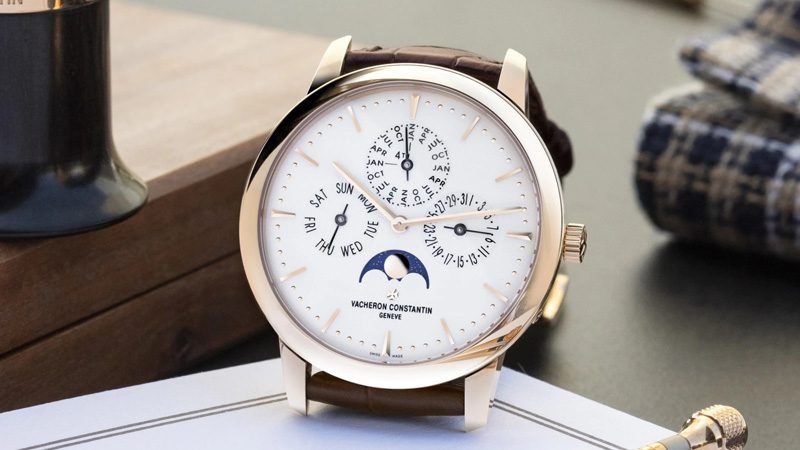 The Patrimony collection reimagines the legendary legacy of Vacheron Constantin in a minimalist, modern way. The understated design and extremely clean lines are symbols of elegance and precision. Attention to detail is behind its pared-back minimalism; dials and applied hour markers complement the movement of the curved case.   
The hands of the watch are slightly curved, as well. A circular-grained minute track tracks time's passage. Vacheron Constantin has made the retrograde date a hallmark of its Patrimony collection over the years. A good example is the dials, they are attractive as well as functional.  
This collection is the essence of style, purity, and complete harmony with watch mechanics. Inspired by Vacheron Constantin's 1950s models, its slender cases exude grace through a deliberately simple design.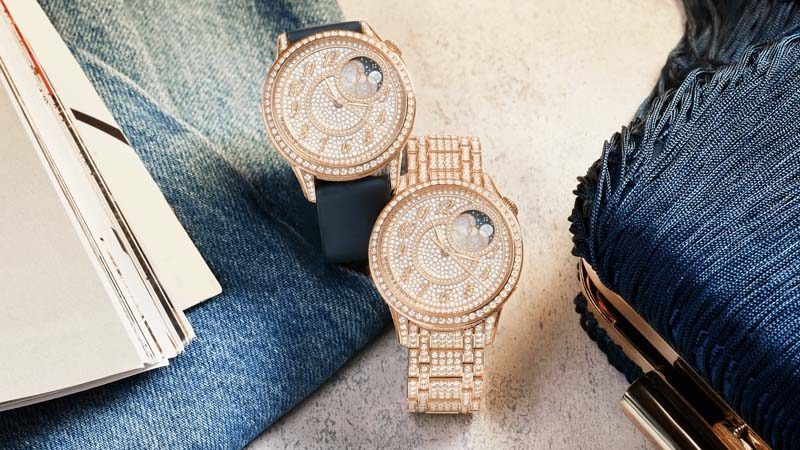 Égérie is Vacheron Constantin's new collection that is exclusively for women. High fashion and high watchmaking come together in this collection. The dial has a simple design with numbers over it and it is encircled by a halo of diamonds. Its stunning background design is in part influenced by a tapestry technique.  
An iconic aspect of the Égérie is the off-centered display, featuring entwined circles. The date or the moon phase is part of the diagonal line created by the Vacheron Constantin logo and the crown is positioned at 1.30 o'clock. The watches have a self-winding movement with a 40-hours power reserve. The moon phase model is perfect for following the lunar cycle.   
It's a great combination of both arts and mechanisms, all of which reflect the beauty and skills in watchmaking. Its design is sleek, classy, and a great addition to anyone who prefers a stylish watch to complement their style.  
Service and Repair of Vacheron Constantin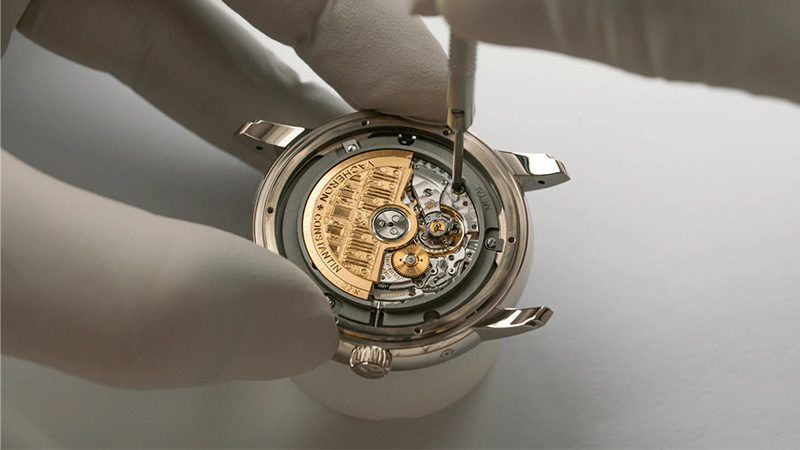 Vacheron Constantin watches are not just beautiful to have but are also the owner's pride. Anyone who owns these priceless watches will want to have them for a long time. The only way to do so is by taking good care of them. There are many things Vacheron Constantin owners can do to keep their watches perfectly working for a long time. One of these is regular servicing and timely repairs.   
My Watch Merchant for Vacheron Constantin's Servicing and Repair in Mumbai
Watches that are created with skills and expertise should only be handled by experts. A watch needs to be checked and tested for unseen issues, it may need the strap or parts replaced. All of these should be handled only by those who have experience in handling high-end watches.   
Your local watch repair shops do not have the expertise or tools for this purpose. This is why your watches deserve My Watch Merchant. We have over 70 years of experience in handling luxury watches. We have the best of machinery needed to handle luxury watches along with skilled professionals who are adept at handling all kinds of luxury watches.  
At My Watch Merchant, we take good care of any watch entrusted to us. We love watches as much as you do. 
Get Expert Care for Your Vacheron Constantin Watches at My Watch Merchant.